Panel fencing tips: Which metal is best?
On the fence about which boundary to choose? We've already highlighted the benefits of perforated metal panel fencing in this article here. So now let's look at the considerations you need to make, when you're ready to pick your pattern and base metal for your fence panels.
Perforated panel fencing: Which metal is best?
Perforated metal comes in many different metal types, so you can easily find one that's suitable for the fence style you want – and the installation location.
Local climate and weather conditions are a factor to consider when you're planning your panel fencing and selecting your base metal. For example, if you have a fencing project near the ocean, you need to avoid metals that are susceptible to corrosion from saltwater. Or if you have high winds, you need a strong and heavy fence that offers the resistance factor you need.
The most popular metal types for our customers ordering panel fencing are steel and aluminium.
Fences are typically made from aluminium if they're decorative, for residential properties and apartment blocks, including coastal homes. Aluminium is lightweight and strong but doesn't rust and is corrosive resistant too. Making it perfect for panel fencing that has plenty of kerb appeal.
Whereas for commercial property that needs to be protected and look the part too, steel is the tougher, heavier option.
We can always give you advice if you're not sure which type of metal is best – we're the metal manufacturing experts and understand metal performance in detail.
Perfecting your panel fencing pattern
Privacy is usually the top priority when it comes to panel fencing, depending on the fence location. Perforated metal offers the perfect balance of privacy and transparency, without being overbearing. And can also be designed to complement building aesthetics.
Pattern choices for panel fencing include:
Squares: Choosing a pattern that's the same shape as the panel itself creates stylish and seamless fencing. See profile P433 for inspiration.
Round-end slots: Such as profile P368. A different take on a traditional geometric shape, the round-end slot is an elongated rectangle with a softer edge. It's modern and looks fantastic as fencing.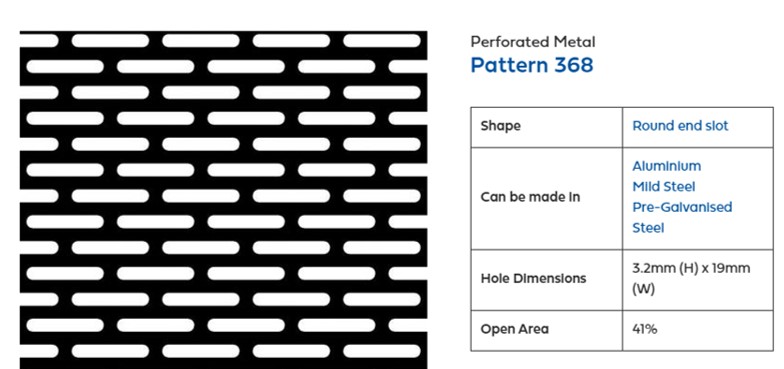 Round: Change the open area percentage – which is the spacing between the holes – and regular round shape goes from classic to contemporary. Take a look at this fence that we custom-made for a homeowner in Paddington.
Whichever type of pattern you prefer, we'll ensure it looks as good as it should when installed. We take into account the unique factors of your project such as ground undulation, and any tweaks that are needed for pattern continuation and joins.
Browse our brochure for pattern ideas from our in-stock and made-to-order profiles. Or you can design your own unique pattern, which we can manufacture for you using CAD drawing. Take a look through our completed Projects to see our custom capabilities and for design inspiration.
Fencing finishes: Colours and durability
Perforated panels can be finished in a colour of your choice, to really give the fencing the edge. Depending on the base metal of your fence, additional coatings can also be added during the colouring process for enhanced durability.
For residential schemes and many commercial projects, popular colours are matt blacks and charcoal greys, as these shades blend in with most exterior styles and give a high-end finish.
How to order perforated metal panel fencing
To place an order, call our expert team on (02) 9748 2200 or send us an online enquiry. We'll advise lead times when you order, and keep you updated on order progress along the way. Panels are available for delivery Australia-wide.
Posted: October 6, 2020
---