Why you need a specialist metal manufacturer
Planning to specify perforated metal or wire mesh for your architecture, design or art project? Before you order on your own, it's always worth getting advice and input from a specialist metal manufacturer like Arrow Metal, to help avoid costly mistakes.
Here are five reasons why your project would benefit from expert advice:
Guaranteed performance
Whether you're specifying it for acoustic or environmental benefits, for balustrade or facade, perforated metal has to be designed to perform. Hole shape, size, metal profile, material and finish all make this happen, and if any of these are out, the metal just won't work as you want it to.
Expert advice and help is essential. The Arrow Metal team can advise the exact profile you need, making any necessary changes to your design, material choice and more for guaranteed performance.
Lower costs
Metal mistakes cost money. Our team can make sure your metal product is the perfect fit first time, keeping your budget and your project timescales on track. If you need to save money, we can make your budget go much further than you imagine, suggesting cost-effective ways to get a similar result using different metals and finishes, without sacrificing the style you're aiming for.
Design guidance
As a metal manufacturer we've brought hundreds of incredible and unique perforated metal designs to life through CAD drawing technology, from impossibly-intricate designs to custom branding and logos. We'll be able to tell you what's possible – and what isn't – to make sure you don't make the mistake of prioritising design over performance.
Order management
Supplier delays and chasing up orders cause chaos when you're up against a project deadline. When you work with Arrow Metal, we assign a specialist to your order, who oversees every stage right up to delivery. So you'll always have the reassurance of a named contact, who knows exactly where everything is up to.
Metal quality
Expert craftsmanship is the core of everything we do at Arrow Metal. By working with a specialist metal manufacturer, you have the reassurance of quality and a product that will last, making sure your project continues to inspire.
Arrow Metal: Metal expertise
Our team is here to help – chat to us about your project today on (02) 9748 2200 or send us an online enquiry. We'll come back to you quickly.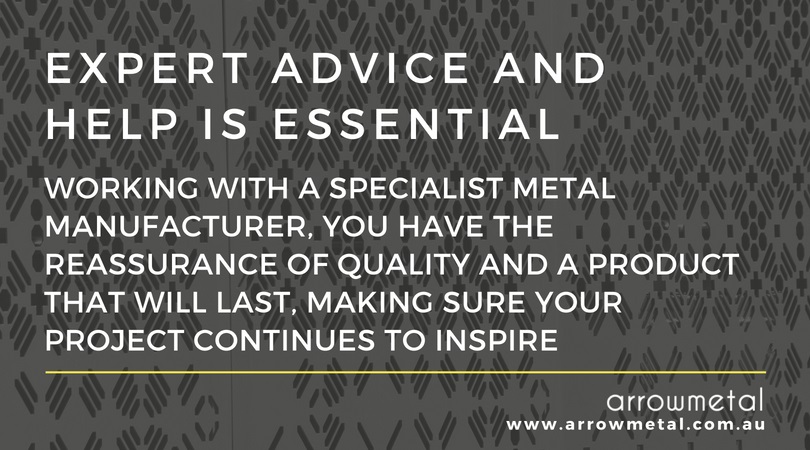 Posted: October 15, 2018
---