Shapely style: Creating curved perforated metal
Want perforated metal that has a different twist? Then why not curve it! Curved perforated metal is just one of the many effects and finishes you can choose when you order panels from Arrow Metal.
Making this style of perforated metal involves gently bending your finished sheets into a specific desired shape, such as cylinders, barely curved creations, and folded forms.
Curved perforated metal is most often used as a practical solution when the installation site has a bend or shape the metal needs to match. For example, as a balustrade for a curved staircase or a facade design that runs around building corners. It is also used decoratively, to create folding features on facades and tactile 3D effects.
And whilst it might look incredibly complex to produce, curved perforated metal is actually a very cost-effective design effect that produces spectacular results.
If you're interested in using this type of perforated metal for your next project, here are some useful tips from our expert team to help you get the best result, including the key considerations you need to make around pattern and metal selection:
How to choose the best pattern for curved perforated metal?
You may think that because your finished perforated panel will be bent, folded, or curved, your pattern options will be very limited. However, almost any design can be bent, as long as it's only a slight curve. Such as this bright red and bold curved perforated metal balustrade that we produced as part of our Blacktown Tennis Centre project. You can see that it has a very gentle curve, which also works brilliantly with the classic round-hole perforations that are punched into each panel.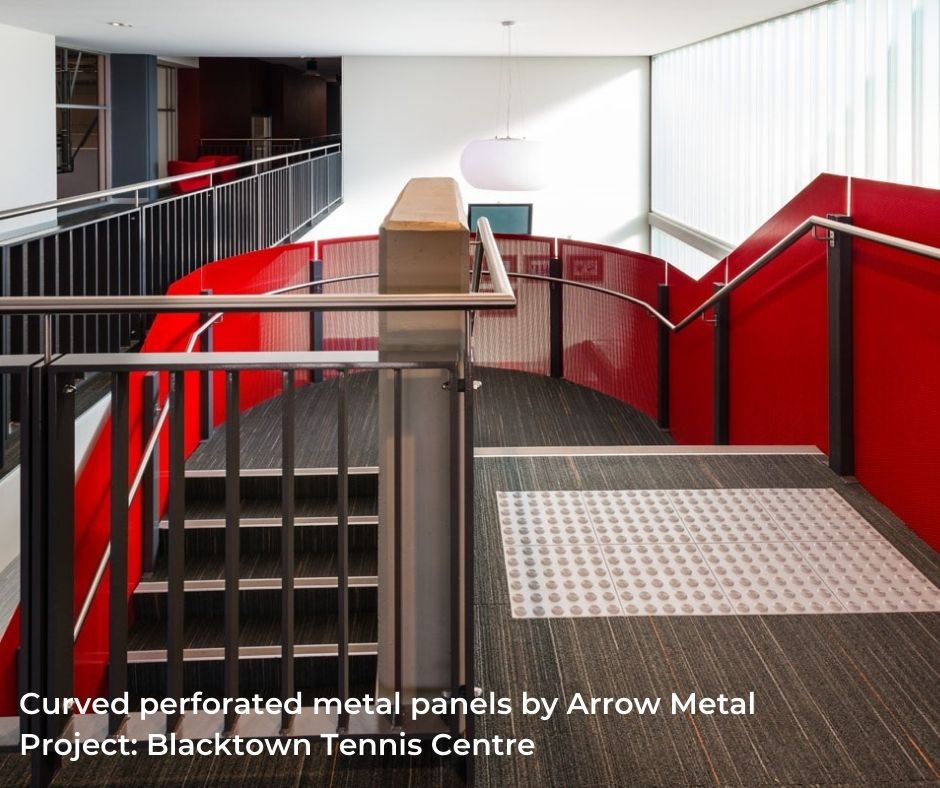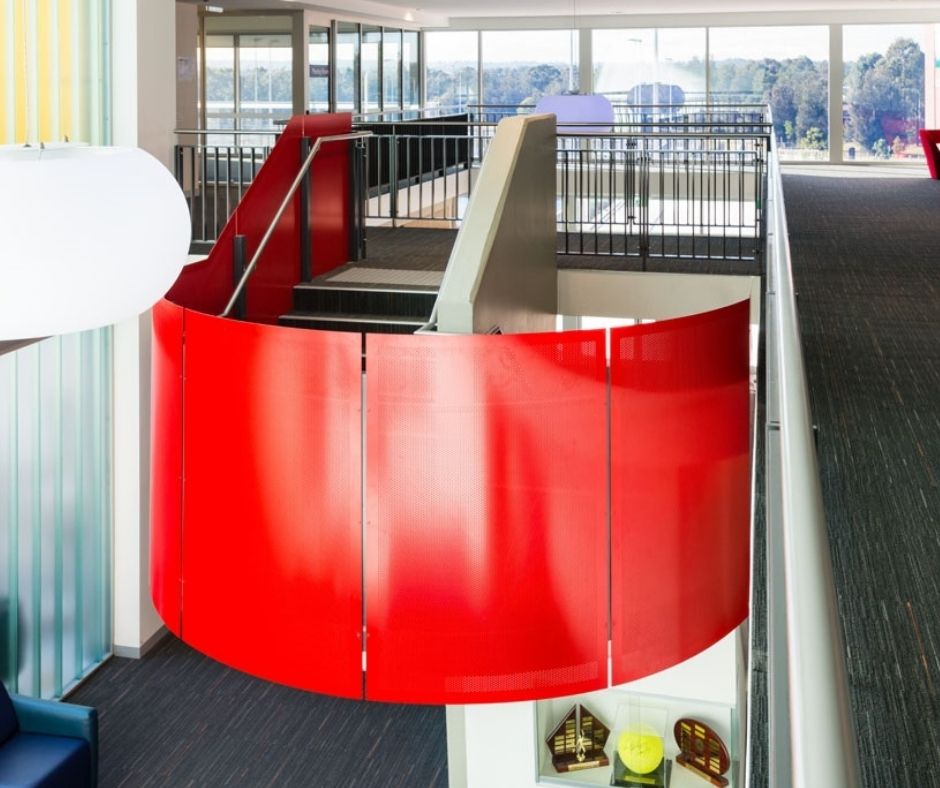 If, on the other hand, you want a more obvious effect, such as a sharp fold, we recommend this only be performed on the solid areas of the panel, and not across the perforations themselves. This is to ensure that the bend is even. A good example of this type of fold can be seen on the facade of our Infinity apartments project. Look closely at the folded screen facade and you will note that the folds are only on the unperforated margins. So if you wanted to reproduce this effect for your project, a simple design would be advised to achieve the best result.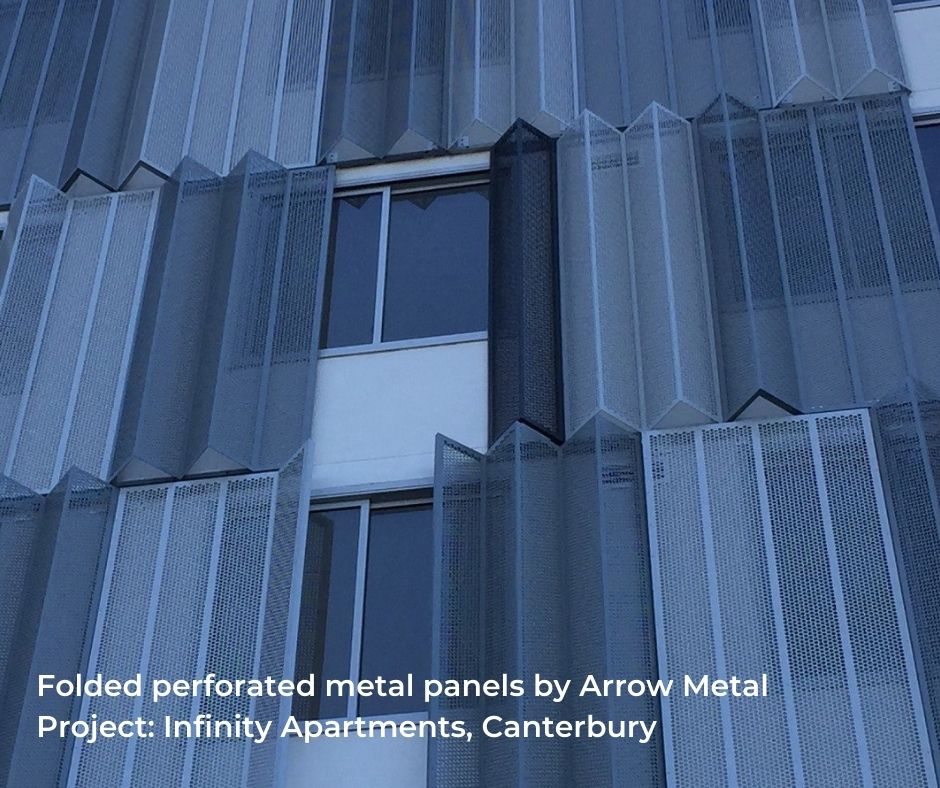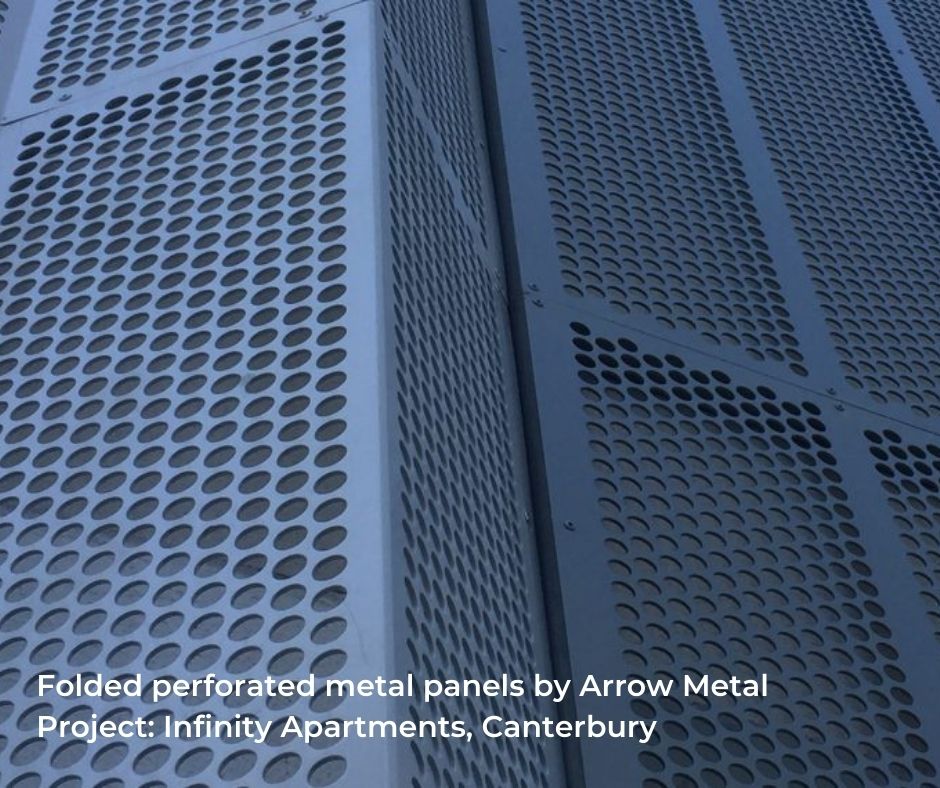 Whatever your design preference, it's important to remember when creating curved perforated metal that we need to avoid any sort of distortion to the design when it is bent and also maintain metal strength and form. For this reason, we do not recommend bending metal horizontally across the pattern for example, or cannot curve horizontally and vertically within the same panel – such as would be required if you wanted a sphere made out of a single piece of perforated metal.
Do talk to our team about the sort of patterns you have in mind, and we will be able to advise suitability for curving, bending, or folding. We can make any changes to standard and made-to-order designs, such as adding or increasing margins, to make your design achievable. Or we can produce a completely customised solution, depending on your design budget and timescales.
Which type of metal is best for curving and folding?
Just as you need to think about pattern suitability for folded or curved perforated metal, metal suitability matters too. In general, you want to select a flexible metal. Such as 5005 grade aluminium, which is the preferred type for this sort of style as it is more malleable than other varieties.
What does curved perforated metal cost – and how long does it take?
Curving, bending, or folding perforated metal typically adds three to five days to normal manufacturing time. The cost however is less straightforward, as the final price depends on several factors, such as your pattern choice, the programming and tooling involved, and if you have chosen a standard, made-to-order, or custom pattern which would involve CAD drawing. Additional finishes, such as colours or special effects, also increase the price.
The best way to control your curved perforated metal costs is to tell us your budget at enquiry stage. We will work with you to identify pattern and metal options that meet your all project's performance and aesthetic needs as well as your budget and delivery timescales.
Order curved perforated metal from Arrow Metal for Australia-wide delivery
Call our team on (02) 9748 2200 to order folded, bent, or curved perforated metal panels, which we can deliver direct to your site anywhere in Australia. Or tell us all about your project through our online enquiry form and we will get in touch for a chat through your ideas. You can also download our perforated metal brochure to browse our range of standard and made-to-order panel designs.
Posted: June 20, 2021
---