About this project
Ready to discover our favourite perforated metal projects of all time? As another Covid-challenging year draws to a close in the construction, design, and architecture industries, we thought it'd be good to end on a high and ask our team which are their top 3 projects and why.
We've had the privilege to work on some incredible public and private sector developments over the years, which have showcased our design and manufacturing capabilities and pushed the boundaries of what can be achieved with perforated metal.
This year alone we have also significantly expanded our pattern range, adding 10 new exclusive designs – see our Deco and Cosmic collections and our latest new Pattern 2319 – giving you even greater choice.
So, here are our best 3 collaborations, according to our team! These projects were chosen for many different reasons – the unique challenges the project presented, the pattern design, the usage and installation, and of course, the final aesthetic result. Read on to find out more!
---
1. University of Newcastle NUspace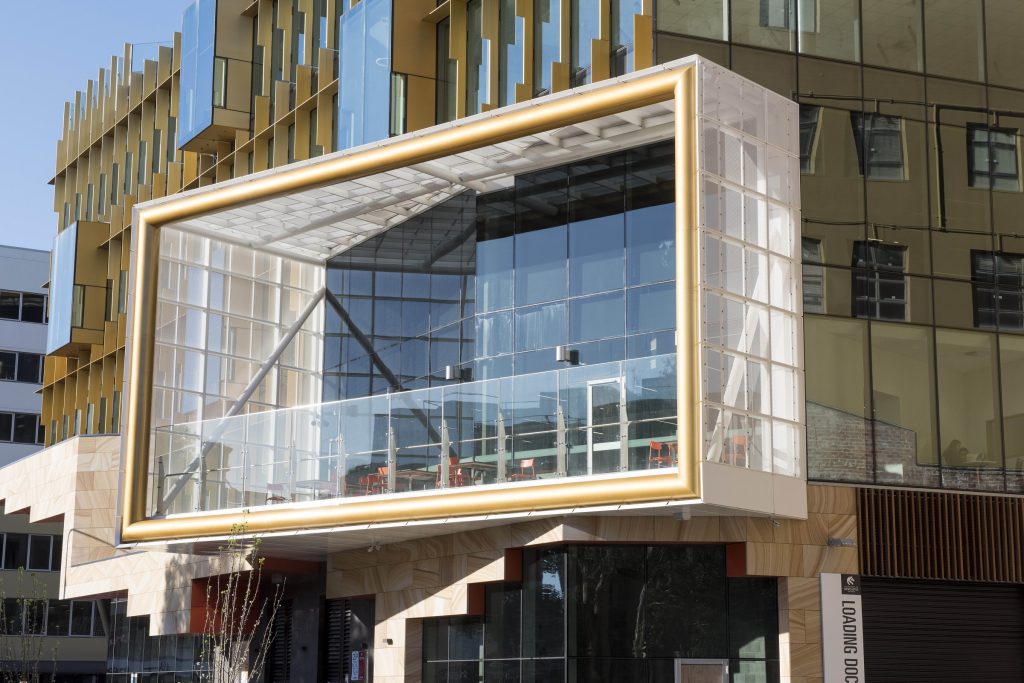 NUspace (formerly NeW Space) is the University of Newcastle's landmark education precinct, but it's no ordinary classroom. Students at this Uni take learning to new heights, studying in booths that jut out from the facade, meters above the ground. These innovative external learning spaces are a real feat of architecture – and that's why this project is top of our favourites class!
Our team manufactured the white perforated metal walls of these incredible learning booths, collaborating with the project team to find the best pattern to suit the local windy conditions and the light-and-airy look the architects wanted to achieve.
In the end, Pattern 376 was the winner – a standard round-end slot design that's modern, contemporary, and ideal in terms of wind resistance, privacy, and mesh-like transparency.
You won't be surprised to learn that NUspace went onto win many architecture awards – and is also 5-star green rated. Check out project details here and order Pattern 376 for your next project. Learn more about University of Newcastle Project
---
2. Como Train Station redevelopment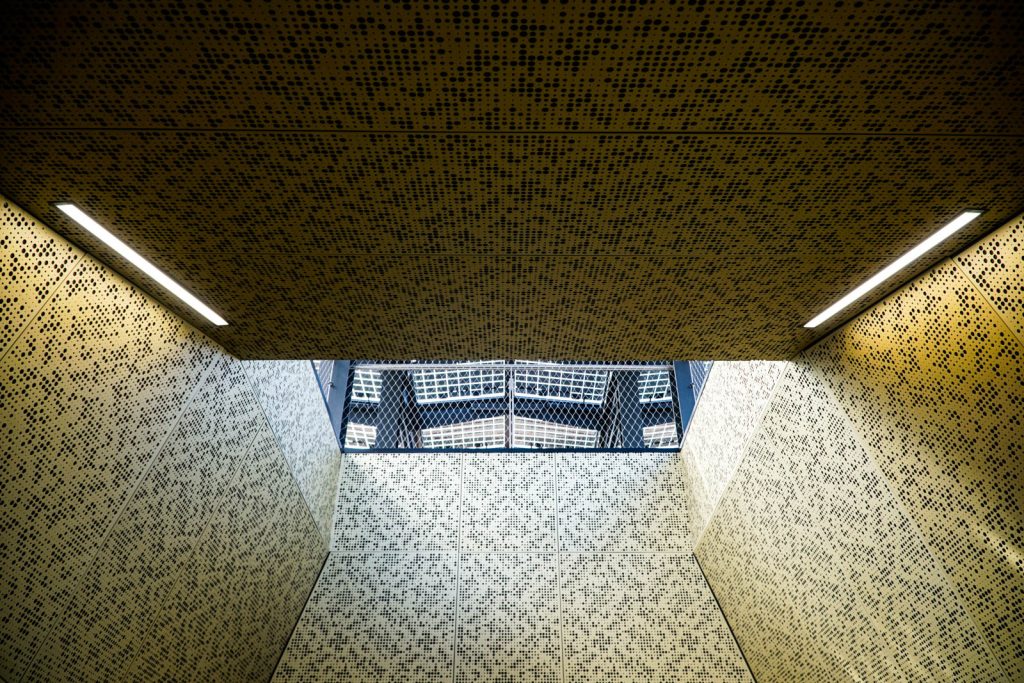 A train station probably isn't the place that you'd associate with creative perforated metal design, but public transport hubs are actually one of the most stylish and unusual perforated metal projects that we work on at Arrow Metal. Yes, they're functional and busy places but are rich in design opportunities. As you can see at Como train station, which has a gold perforated metal underpass!
This special project involved expertly perforating and cutting a series of 3mm aluminium panels in Pattern 2319, a new Arrow Metal design that was just the ticket for the station's upgrade. Our expert team even worked the station name seamlessly and subtly into the pattern.
Panels were then finished in Champagne Gold – the ideal hue for travelling in high-class style that perfectly matched the station's sandstone exterior.
With such an awe-inspiring start or end of a journey, we had to have Como train station in our top 3. Read more about the project here and explore Pattern 2319 specifications – we can customise our perforated metal designs to perfectly match your project's requirements, including adding lettering, illustrations, and borders.
---
3. Rockdale Park roof
Public facilities are another functional feature of local life, but with a simple tweak in design, you can create statement architecture. Just look at how a cantilever roof transformed a standard amenities block into a landscape landmark at Rockdale Park.
Built as part of an extensive upgrade by Bayside Council, we individually perforated every panel of the roof's 3D angular underside in standard pattern 234, using CAD software for total precision in pattern flow.
The result is a roof that not only serves its purpose but does it in spectacular style, in keeping with the park's stunning scenery as a favourite local location for weddings and celebrations.
We love this project because it shows just what can be achieved by including perforated metal in something as simple as a roof installation, and in the most unusual way!
Learn more about this project's unique challenges here or click here for more details of perforation pattern 234.
---
Work with Arrow Metal for your perforated metal projects
Design and order perforated metal with our expert team for your 2022 developments. We manufacture and supply perforated metal for all types of public and private sector projects across Australia, from leisure and hospitality to transport, education, commercial offices, retail, and hospitals.
Chat through your project's requirements on (02) 9748 2200 or send us an online enquiry. You can also browse through our Project gallery.
---
Stay in touch! Sign up to receive our monthly Newsletter.
Follow us: Facebook, LinkedIn