Perforated sheet ideas for metal projects
Are you planning to use perforated metal in your 2021 projects but need some pattern inspiration? The fact that you can customise and create your own perforated metal design is one of the material's greatest benefits – but too much choice can often be a challenge, too. So to start you off with some perforated sheet ideas, let's dip into Arrow Metal's archives for a closer look at some spectacular patterns that make architecture projects pop:
Custom pattern perforated sheet ideas
Where do you start when designing your own perforated metal pattern? Whether you need perforated metal for performance purposes, for aesthetic appeal or both, sometimes the very best perforated sheet ideas simply start with a standard shape that is given a very different twist.
Like this incredible perforated footbridge at Oatley train station that's made of panels manufactured by the Arrow Metal team. The design seems complex at first glance, but look closely and you'll see that this pattern uses only one shape – the triangle – cleverly arranged in different formats. The result is an intricate and modern passenger passageway that's first-class in transport architecture. The architect even placed the perforations to maximise weather protection and sunlight, varying the pattern and spacing in the roof compared to the sides.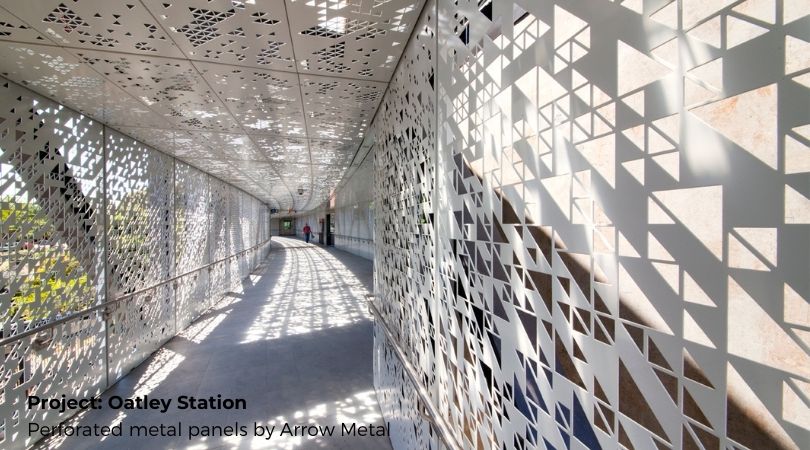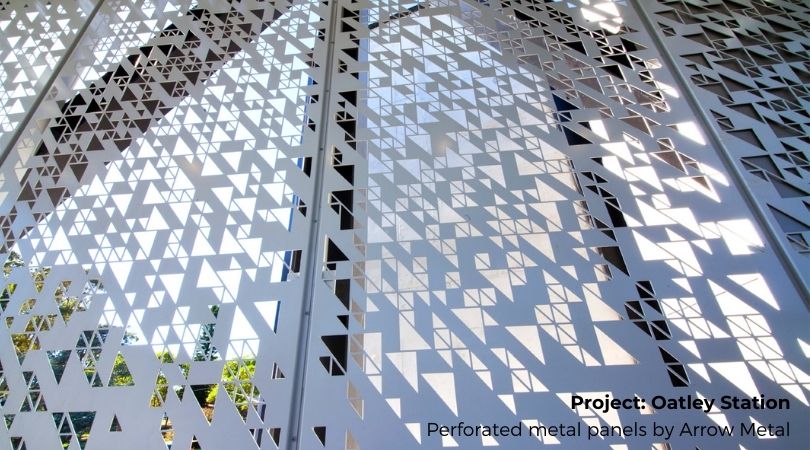 If you can't decide on a style of shape as the basis for your bespoke design, then why not have them all? Take a look at Harris Park train station, where there's another fantastic footbridge made using Arrow Metal perforated panels.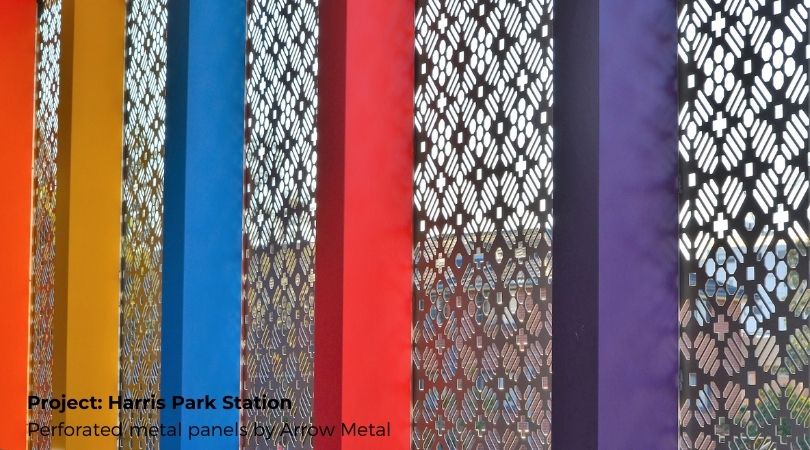 This design has a plethora of patterns on each panel. Crosses, hexagons, circles, geodes and squares combine with solid areas to create real visual impact, which is emphasised by the brightly-coloured columns.
Company logo and corporate branding perforated sheet ideas
Did you know that we can re-create your company branding in perforated metal? It's a great idea if you're launching an office or HQ. Check out the giant sign that we manufactured for Nolan's Interstate Transport new Sydney hub. The branded metal sign is made up of 27 perforated metal panels, which join together to form the transport company's distinctive logo. Our expert team used CAD drawing to create a perfect large-scale duplicate of the logo, capturing all its fine details.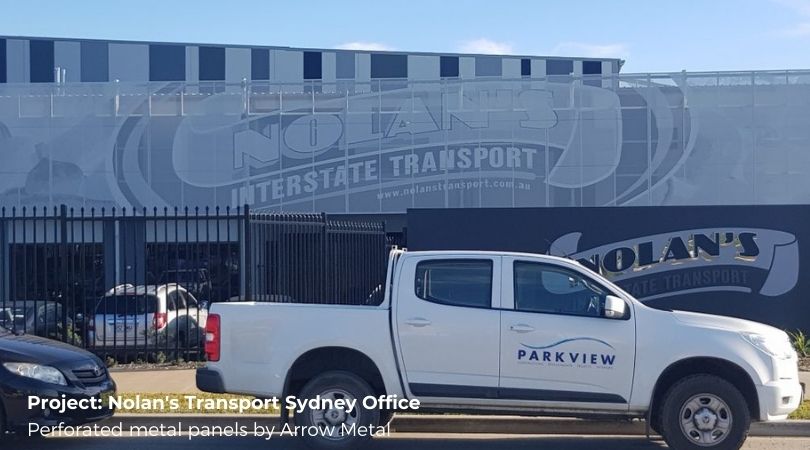 If you love this idea but want to steer in a more subtle direction, take a look at the perforated panels we manufactured as signage for ASICS. A classic circle shape is the perfect platform for the company's instantly-recognisable logo. But branding isn't the only game for these sporty signs – they are also designed to be green walls for climbing plants.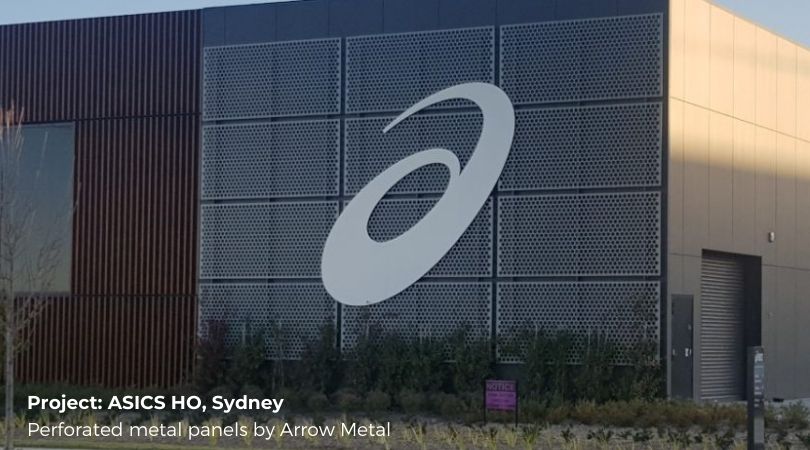 Illustrations and words perforated sheet ideas
Poetry is a well-known source of great inspiration which is spelled out for all to see at this apartment building in Granville. The perforated metal facade of the Cowper Street development is inscribed with words from the poem 'Grace' by famous local poet Todd Turner. Achieved through CAD drawing and precision tooling technology, the poetry is complemented by a large-scale abstract mural of the Duck River, also manufactured by Arrow Metal.
If you're inspired by pictures more than words, why not use an actual image to dictate your design? Trains and trees form the pattern for the red perforated metal panels at Narellan Town Centre's playground. You can even use a photograph if it's a more personal project, which is how the design was created for the perforated metal staircase and privacy screening at this home renovation in Balmain.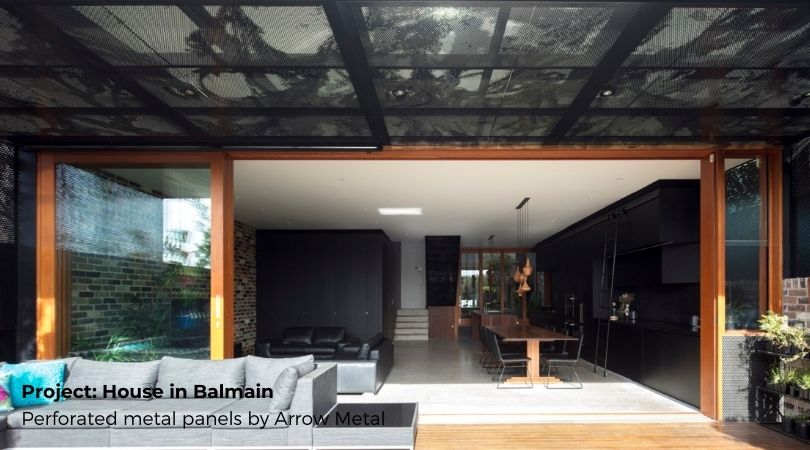 As long as it's a JPEG and ideally black and white, we can transform your image into a CAD drawing to successfully make perforated metal panels out of any picture.
Get more perforated sheet ideas with Arrow Metal
Talk to Arrow Metal's design experts to discuss your perforated pattern ideas. We manufacture custom panels for architecture projects of all types, Australia-wide. Call us on (02) 9748 2200 or make an online enquiry here.
Posted: February 15, 2021
---