Perforated panel pops with a mixed pattern
Can't decide on which pattern to choose for your perforated panel? Love the look of round but maybe square has the edge? Then why not mix it up and have them all?
Because you don't need to choose just one perforation pattern. At Arrow Metal we can create a perforated panel that has a mixture of shapes and styles in a single sheet. And random, not repetitive, placement too.
Customised tooling is what makes it all possible. We use state-of-the-art machinery, so you can achieve the most imaginative and intricate patterns. Here's how we do it:
Advanced technology to make a mixed pattern perforated panel
Combining patterns on a single perforated sheet starts with a CAD drawing of your mixed design. This gives you an accurate representation of how it's going to look. We'll send this to you for review and revision – any changes to the design can be made at this stage. Once approved, it is then programmed into our punching machine's software, ready for manufacture.
Setting up our machine to punch multiple patterns is a fast and efficient process. It doesn't involve lengthy downtime to switch punching tools. That's because our machine is one of the fastest and most powerful systems available, featuring indexed multi-tools and an intelligent interface for seamless perforation production.
When you work with us to produce your mixed pattern perforated panel, you'll benefit from:
More pattern flexibility and capability than ever before, for the most creative designs
Energy-efficient production
Exceptional accuracy and precision – punching speeds of 510 hits per minute, with 33 tons of punching force
Quick turnaround and shorter lead times for fast delivery of your panels
Mixed pattern perforated panel design ideas
Because our machinery is so advanced, you can easily mix square perforations with round, opt for different geometric patterns and specify random spacing, that doesn't follow a set pitch. You can also combine perforated and solid areas, which is a technique that's used to create an illustration or image in perforated metal.
Take a look at these Arrow Metal projects that all use mixed pattern perforated panels. Harris Park train station's footbridge features a geometric pattern that's a spectacular combination of octagons, crosses, squares and pointed tip rectangles.
Sunbury Aquatic Centre's perforated panels give the impression of a wave thanks to the use of perforated and solid areas on each panel.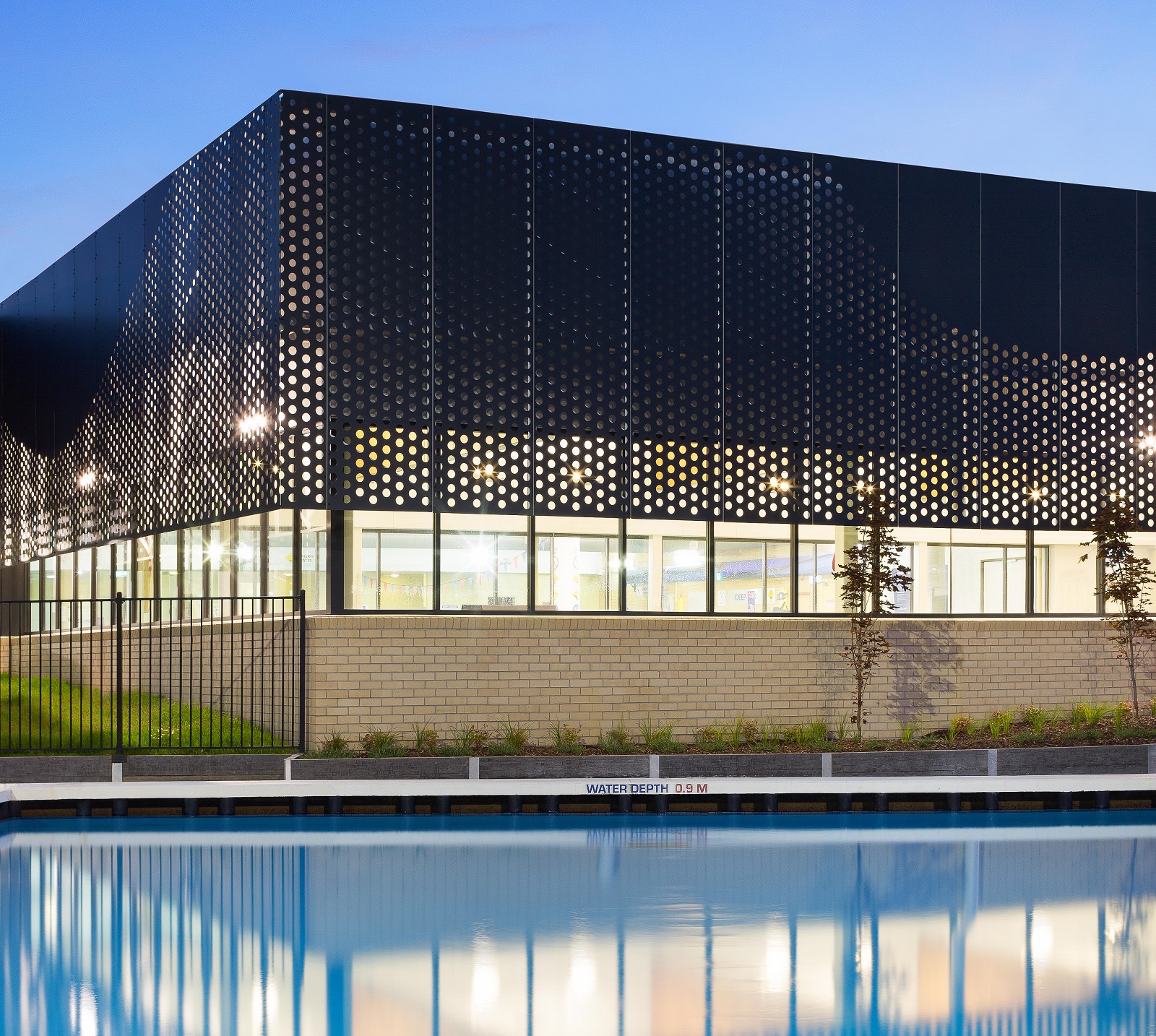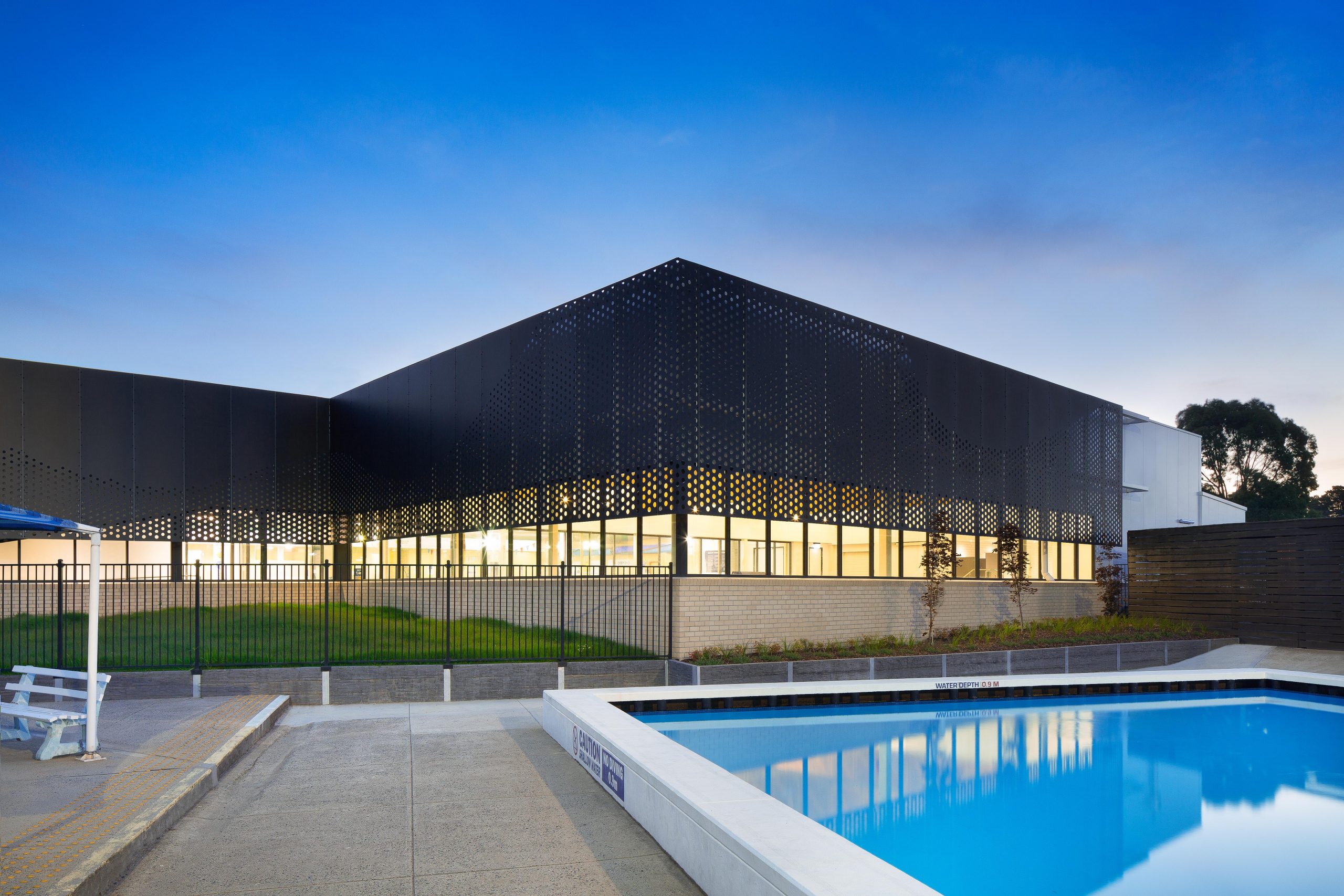 And over at Hazelbrook train station, you'll find a random pattern that's a mix of an outline, 3D block and tiny, scattered styles at the base. We were able to achieve the architect's amazing design by splitting each panel into two – but you'd never know, thanks to the invisible clear 6mm polycarbonate that we used to seamlessly join the panels together.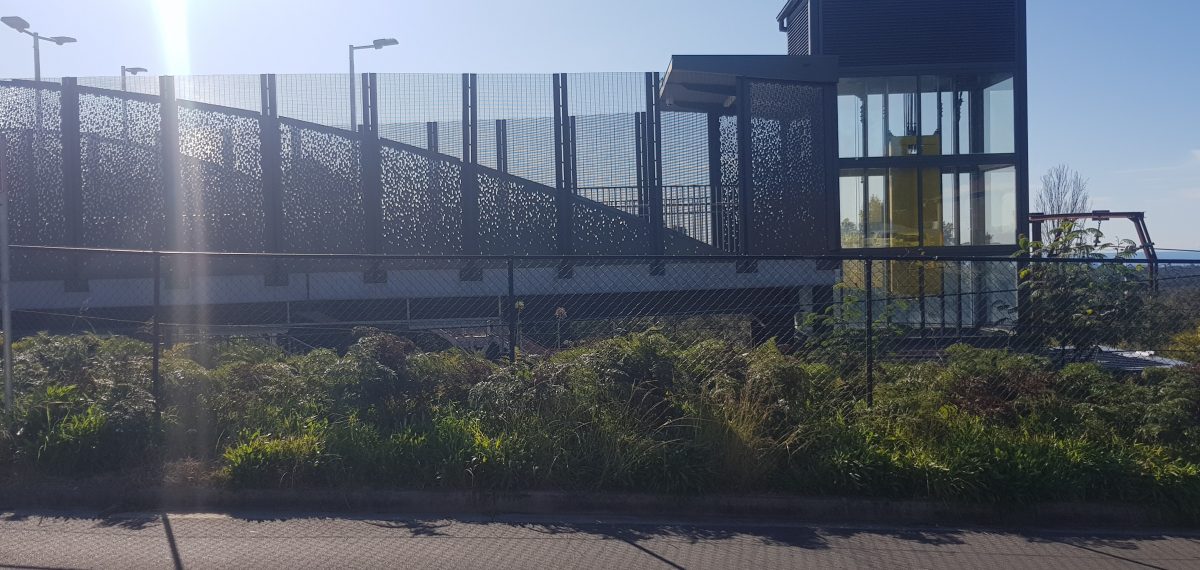 You can even match perforations in your design to weather conditions, like at Oatley Railway Station's footbridge. The architect specified a unique triangle pattern that looks random but is, in fact, anything but. It cleverly features larger perforations on the side walls for light filtration, and smaller sized triangles on the roof for weather protection.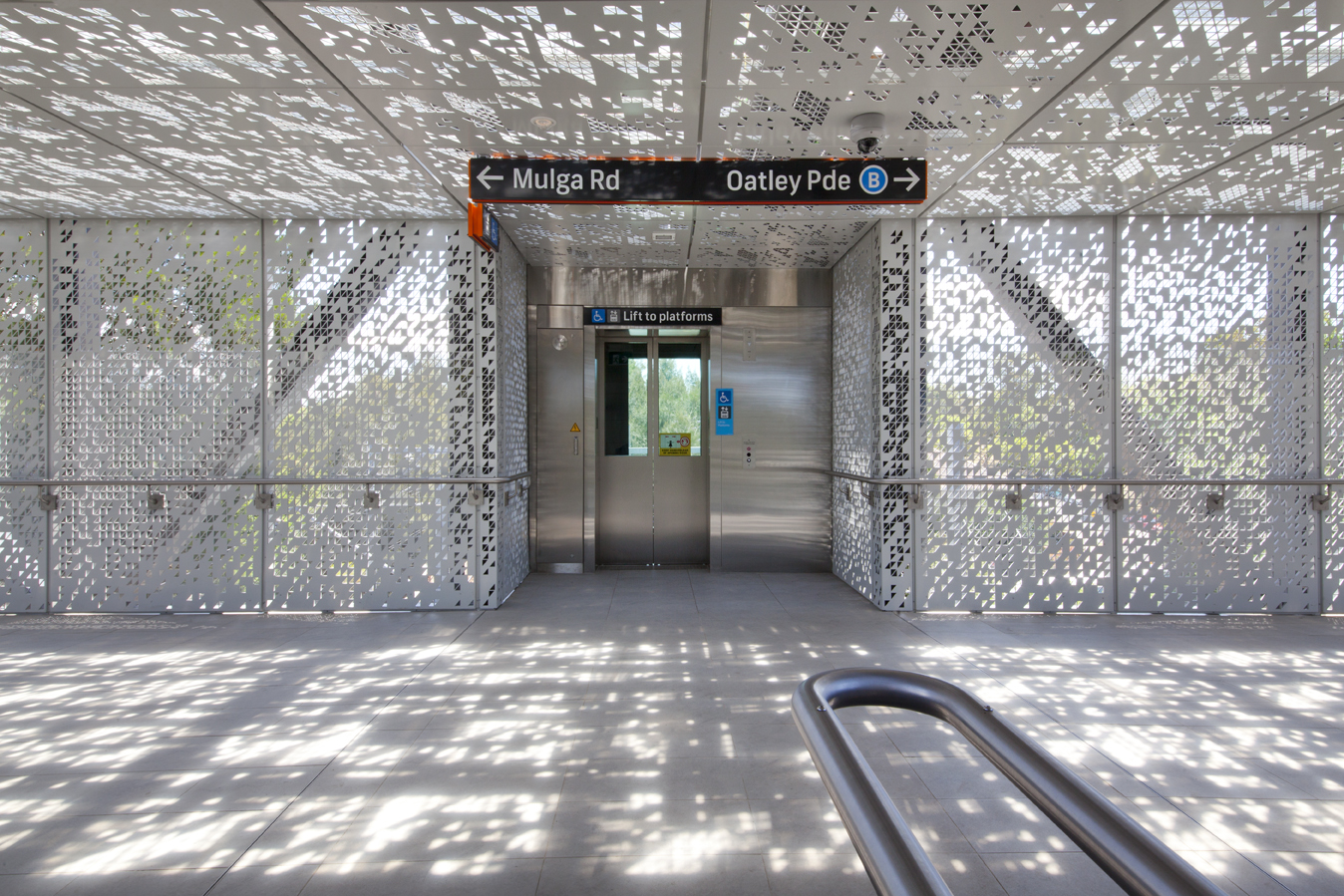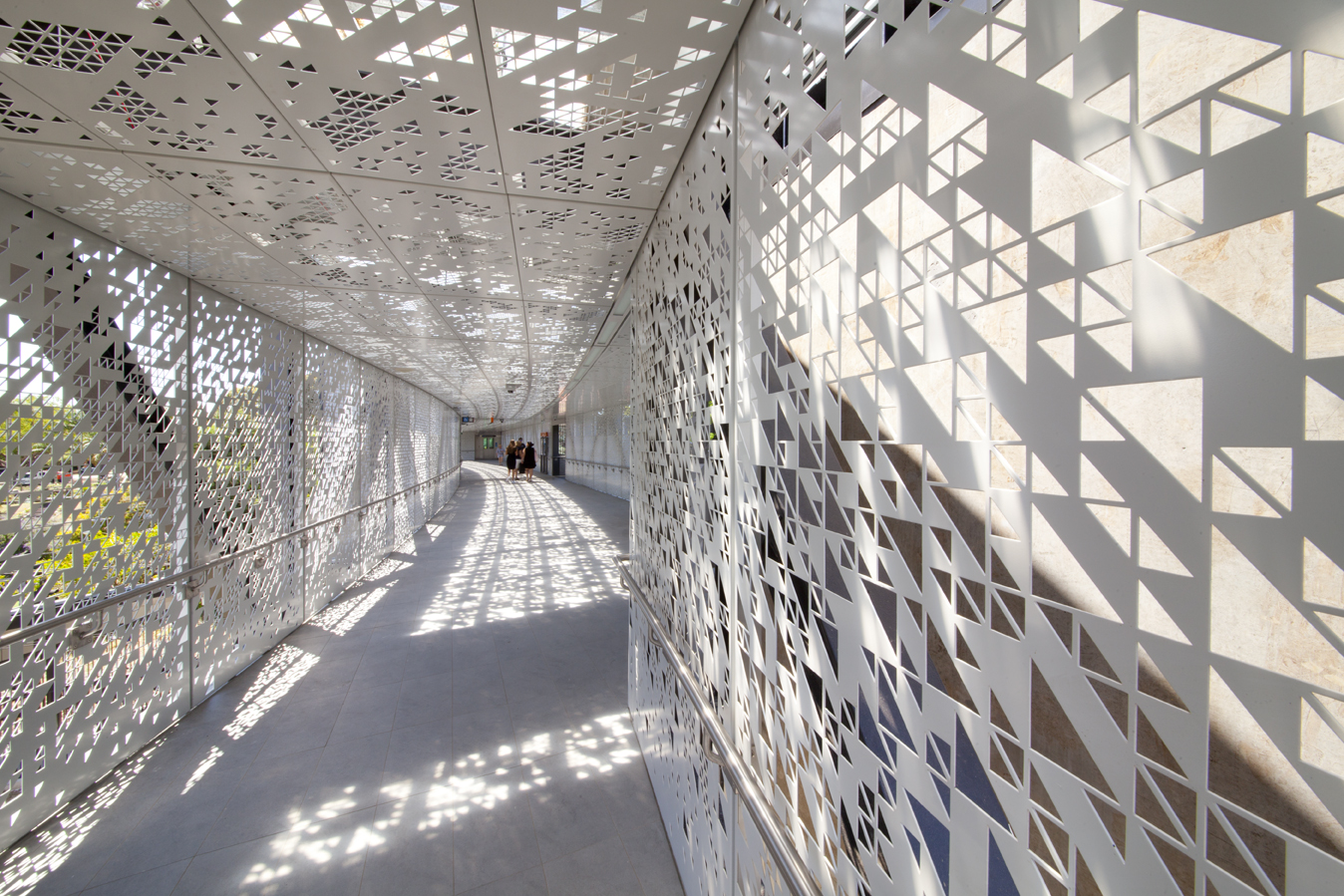 Mixed pattern perforated panel uses
A mixed pattern perforated panel makes a massive design impact, which is why custom styles like this are most often used for building facade, decorative cladding and screening.
If you'd like to create your own custom mixed pattern perforated metal for your next project, have a no-obligation chat to our team about your design ideas.
We'll explain what's possible and talk you through your base metal options, colours and durable finishes, that suit performance and environmental requirements. Call our team on (02) 9748 2200. Or make an online enquiry here and one of our experts will be in touch.
Posted: August 17, 2020
---