Perforated metal shutters: Design Inspo
Perforated metal shutters open a whole new window of creative opportunity for architects and designers.
A simple way to transform a space or even an entire building, perforated metal shutters and doors can be designed to seamlessly integrate into a facade, add unique statement to a space and create visual light play for a soft-focus interior.
Take a look at six of our favourite designs of perforated metal shutters and doors and how these architectural projects have made an entrance with perforated metal:
K House, Sau Paulo, Brazil by Studio Arthur Casas
Perforated metal shutters bring beauty and privacy to this incredible residential home in Sau Paulo. Designed by Studio Arthur Casas, the shutters are hidden within the unique perforated façade that envelops the entire property. Based on a leaf design, the perforation pattern filters the sunlight and gives occupants a sense of natural serenity and calm in a dense urban area.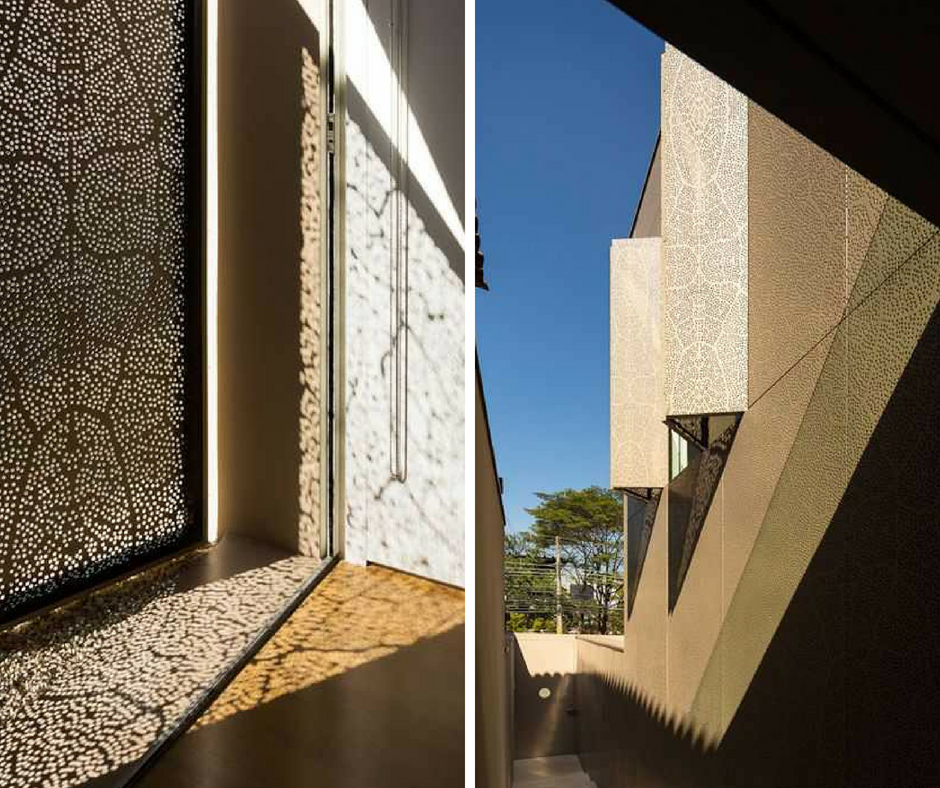 Images sourced from Studio Arthur Casas,
Maison Escalier, France, by Moussafir Architects
Known as the 'Staircase House', this was once a classic brick and stone property in Paris. Transformed by Moussafir Architects, perforated metal shutters slide back and forth completely across the front of the remodelled property, flooding the open-plan spacious interior with light. Completed with a matching perforated metal door, its seamless and contemporary design adds unique shadows and elements to the white interior walls.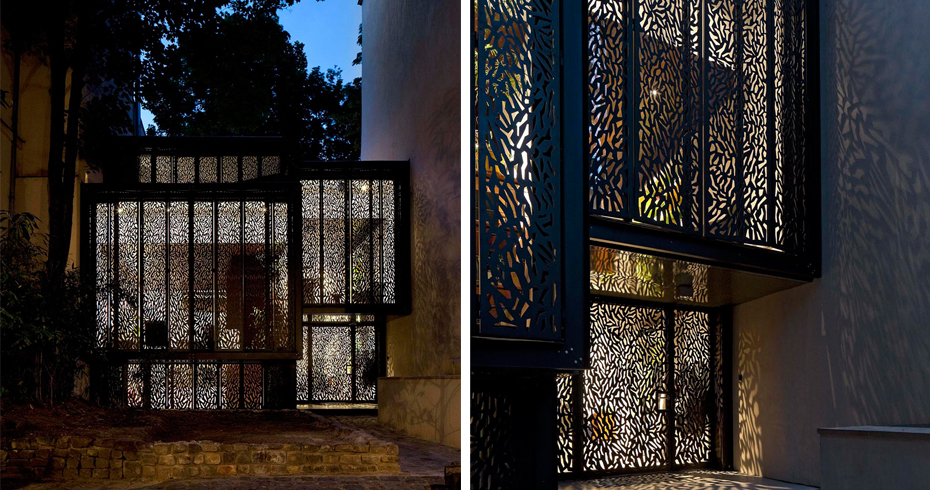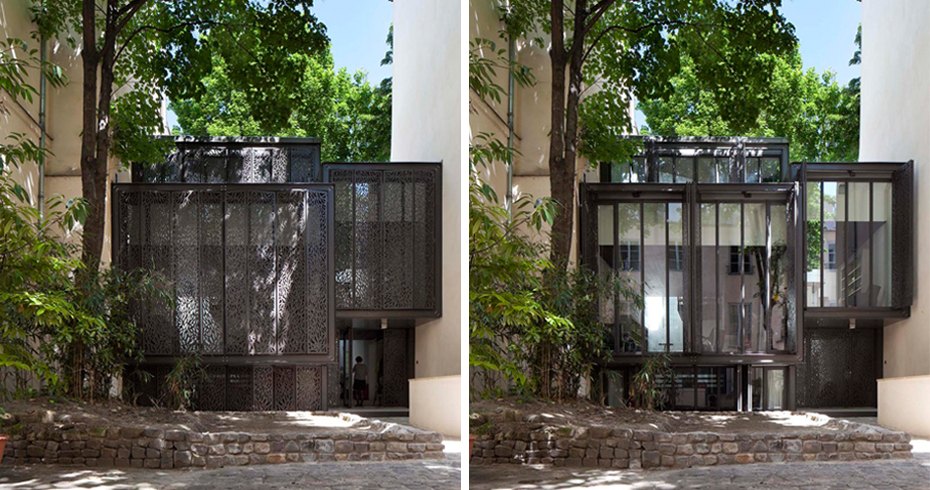 Images sourced from Moussafir Architects
House 77, Portugal, by dIONISO LAB
Intriguing symbols form the perforated metal shutters of this house in Portugal. Created by Portuguese studio dIONISO LAB, the aluminium shutters cleverly act as a folding façade for the property's balcony area onto the street, giving much-needed privacy. Featuring symbols relating to local life, the shutters fold completely flat resulting in a mysterious metal building that has no visible entry or windows.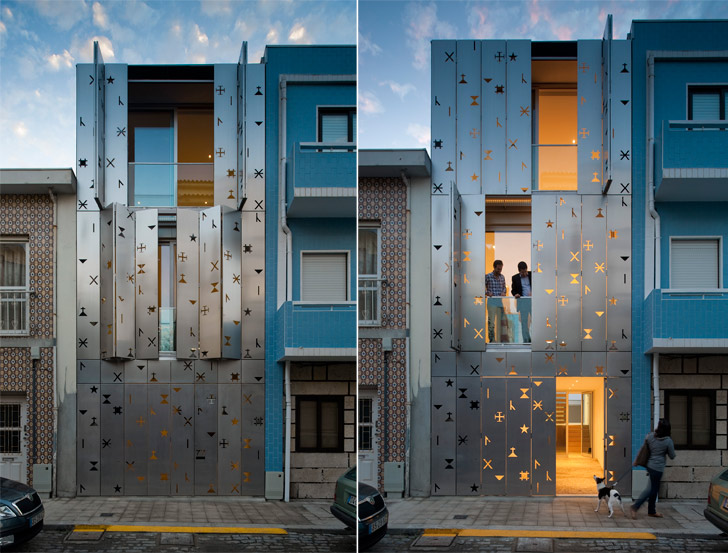 Images sourced from Inhabitat
Ladderstile House, London, by Threefold Architects
Shortlisted for property awards, Ladderstile House in Richmond Park, London by Threefold Architects is a sensitively-designed one-off eco home in a conservation area. What's amazing about this courtyard property isn't just its intricate perforated metal shutters that bring privacy and shade, but the fact that it has virtually no running costs. The steel perforated metal shutters feature an abstract foliage pattern which works so well in contrast with the sleek simplicity of the home's timber screens and full-length glazing.
Image sourced from Threefold Architects
Live Work Home, NY, USA by Cook Fox
Awarded the highest US Green Building Council Platinum LEED rating, Live Work Home by Cook Fox is a brilliant example of evolutionary architecture that redesigns the very concept of 'home'. Reconfigurable for different living uses, its changeable perforated partitions allow for a lifetime of 'waste-free remodelling'. The use of perforated metal shutters and doors filter sunlight and promote airflow, whilst also allowing the front façade to be folded-up, opening up the property into the street.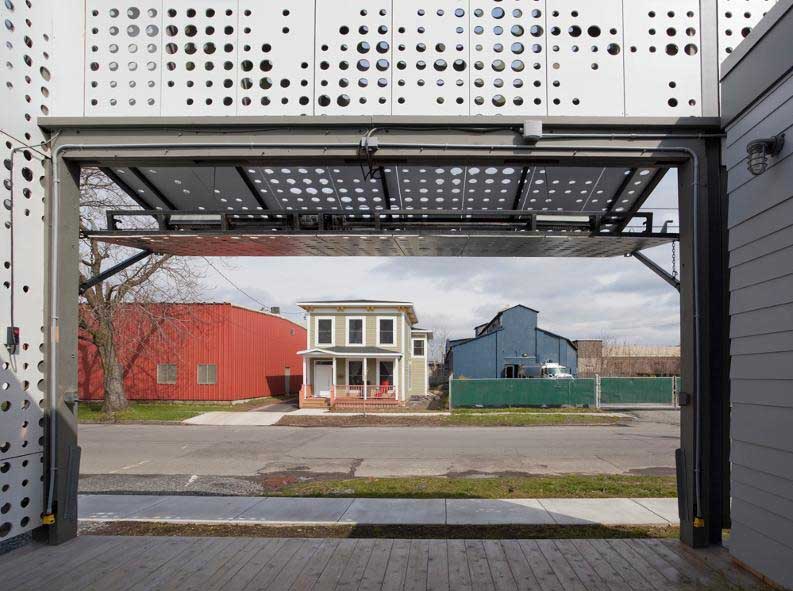 Image sourced from Live Work Home
Haus zur Rose, Erfurt, Germany by Deckert Mester Architects
Built on a tiny 60 sq metres of land in the old town of Erfurt, Germany, this property's perforated metal sliding doors is where it gets its floral name. 'Haus zur Rose' by Deckert Mester Architects is a compact but completely contemporary home that makes use of every single bit of space. The stunning gold perforated metal doors featuring a delicate rose design give privacy protection to the ground-level living area whilst also enabling secure off-street parking.
Image sourced from Deckert Mester Architects
Perforated metal shutters and doors: Custom or standard designs
At Arrow Metal we can create perforated metal shutters and facades in almost any design and finish. From custom perforation patterns and standard shapes to full-on folding building facades, we can help you achieve your design vision. Talk to our team for expert advice and guidance on (02) 9748 2200 or chat to us through our online enquiry form.
Posted: June 6, 2018
---