Perforated metal sheet suppliers: What we do
Looking for perforated metal sheet suppliers to fulfil your project requirements? At Arrow Metal we have extensive project expertise. We've supplied perforated metal to projects across a wide range of sectors in New South Wales, Sydney and interstate. Including multi-million-dollar healthcare, transport and education schemes, leisure, retail, corporate and residential projects.
Places where you'll see our perforated metal panels throughout Sydney include the Wynyard to Barangaroo walkway, ASICS new Oceania HQ, George St Precinct in Sydney CBD and Sydney's iconic QVB building.
We were also the perforated metal sheet suppliers for Gosford Hospital's walkway, Newcastle University's $95m NeW Space education precinct, Cranebrook Shopping Centre, St Ursula's College revamp and the $16m Blacktown Tennis Centre. Our interstate projects include Brisbane's ferry terminals, where our perforated metal panels are used as balustrade and fencing to keep passengers safe.
If you're researching perforated metal sheet suppliers, here's some FAQs all about how we can help with your project, including ways we can potentially save you money on your perforated metal costs.
What types of perforated metal does Arrow Metal produce?
We perforate many different types of metals. Your options include aluminium, stainless steel, mild steel, pre-galvanised steel, Galvanneal and brass. Which type of metal you choose for your project depends on end usage, performance requirements – like strength and light filtration – and any environmental conditions at the project's location. Such as sea water for coastal buildings and wind speed for tall buildings. We can advise which metal is best together with any additional finishes that may be required.
What sort of applications can your perforated metal panels be used for?
Architects commonly use our perforated metal as building facade, cladding, shutters, balustrade and balconies. For interiors, designers use it for decorative dividers, as privacy screening, residential fencing and interior staircases. It's also used by artists to create pieces and pictures, such as the floral wall art Chatswood Interchange. The applications for our perforated metal are virtually endless, as you can match the perforated metal design and performance to project requirements and add interest with colours and effects.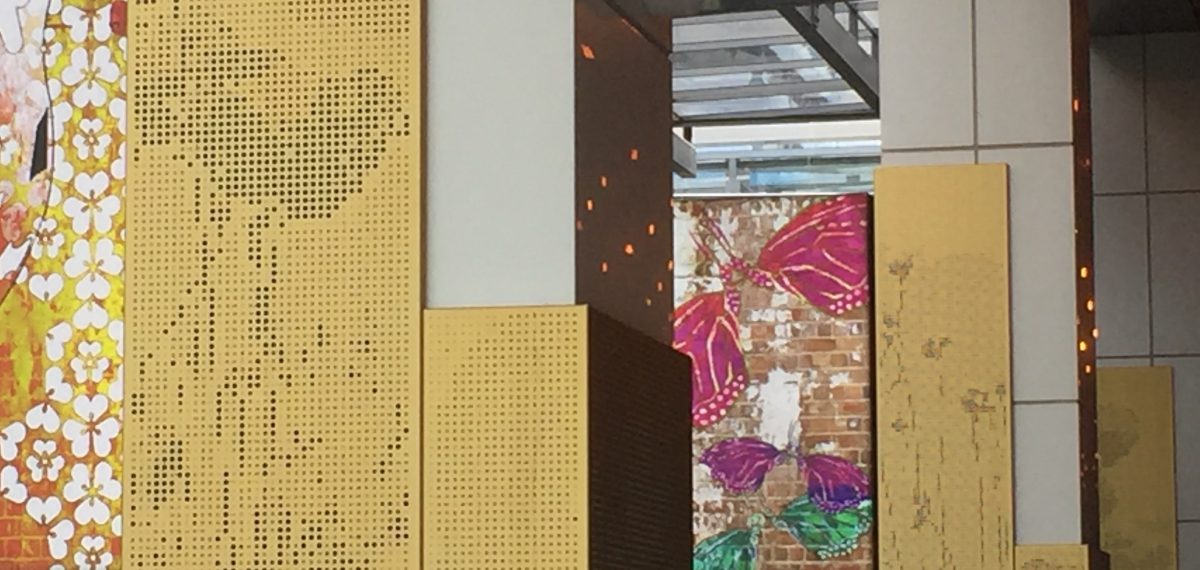 Image: Chadswood Interchange Centre with Arrow Metal bespoke perforated panels
How do I order a custom perforated metal design?
It's easy to get started if you have your own perforated metal design. Have a chat to our team in the first instance to check that your design is possible. We'll advise if there needs to be any adaptions, once we understand the performance or finished look you want to achieve. We'll then work closely with you to make sure your design is feasible.
We'll create a CAD drawing and provide metal samples, so you know exactly how your finished panels will look and fit together before manufacture. Take a look at some of the custom perforated metal projects we've worked on to see the designs we can create. Such as Nolan's Transport branded signage for their new Sydney hub. And Wayside Chapel's entrance, where their motto was reproduced in metal. Or Narellan Town Centre play area, which has trains and trees perforated in vibrant red metal.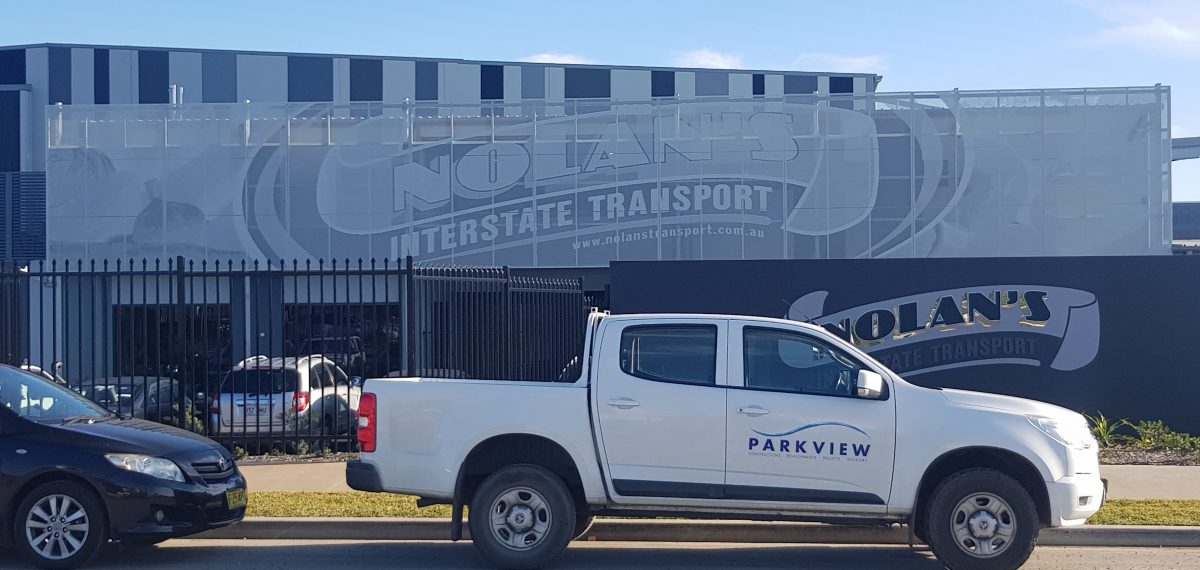 Image: Nolan's Interstate Transport's Sydney Depot.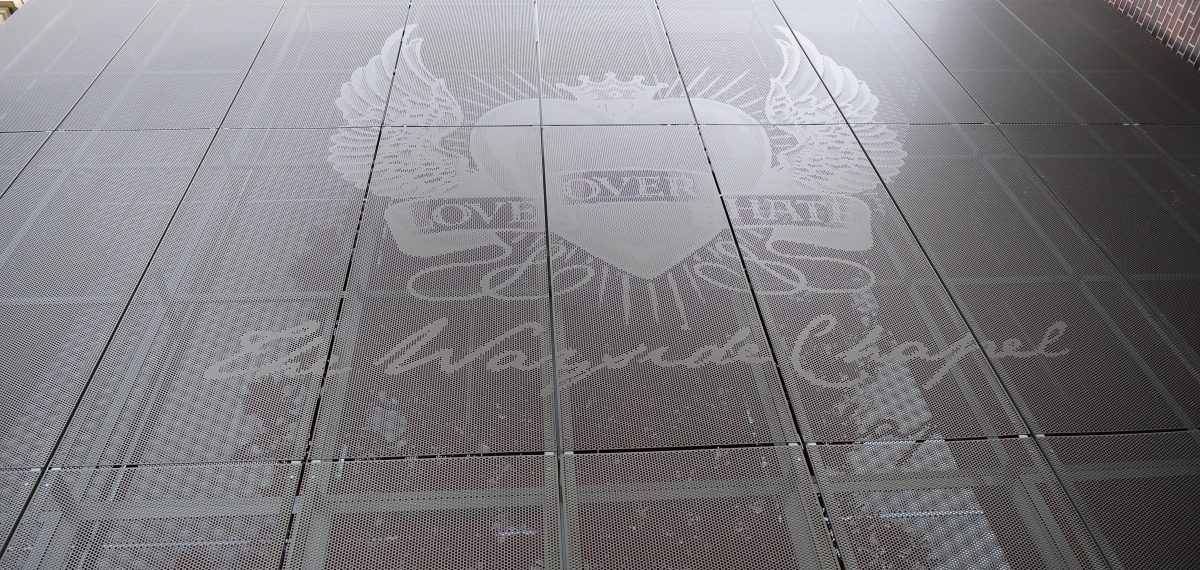 Image: The Wayside Chapel building facade with bespoke perforated metal panels by Arrow Metal
What perforated metal options are available for smaller budgets?
If your budget is tight, our most cost-effective option is our in-stock, standard perforated metal panels. These are ready to ship and come in a variety of popular sizes and classic designs, such as round and square. But do talk to us about what you need and your available budget.
We can often suggest other ideas that will work for your budget and your timescales, to give you an even better end result. Such as customising our in-stock or made-to-order profiles with finishes and effects. It's a great way to get a 'bespoke' look without the high spend. Read our perforated metal cost-saving tips here for more ideas about getting the most out of your budget when specifying perforated metal.
How long do standard/in-stock perforated panels take to ship?
We ship out our standard, in-stock perforated metal panels the very next working day following payment. We supply projects all over Australia. If your order is a custom design or has special finishes or effects such as folding, we'll give you a timescale for delivery when you order.
Can you help with perforated metal advice or ideas?
Yes, absolutely. We're the perforated metal – and wire mesh – experts. We can help with every stage, from choosing your base metal to the best perforation design for your needs. Our years of expertise and experience is why we're the trusted perforated sheet metal suppliers for so many architects and designers across Australia.
Do you have any unusual patterns for perforated metal?
Yes, metal can be perforated with all sorts of shapes. Our made-to-order range includes hexagons and geometric styles. We can even perforate different shapes into a single sheet, so you have a varied, mixed design.
It's all achievable through our state-of-the-art machinery and tooling, which have the capability to produce an incredible range of patterns and exciting designs. Talk to our team about what shape you'd like and we'll give you some options and ideas.
Make an enquiry with Arrow Metal: Perforated metal sheet suppliers for commercial and private projects
Download our perforated metal brochure to explore our range of in-stock and made-to-order perforated metal designs. For more information on creating your own bespoke design or to discuss placing an order, call our team on (02) 9748 2200. Or make an online enquiry here and we'll be in touch shortly.
Posted: September 14, 2020
---