Perforated metal panel expertise
Looking for a perforated metal panel supplier for your next projects? Arrow Metal is one of Australia's leading manufacturers of standard and architectural custom-designed perforated metal.
Our perforated metal panel and wire mesh products have been used for some of the most prestigious developments in New South Wales and in Sydney, including the George Street redevelopment in the CBD, the $48m restoration and renovation of the iconic Queen Victoria Building and the Wynyard to Barangaroo walkway tunnel.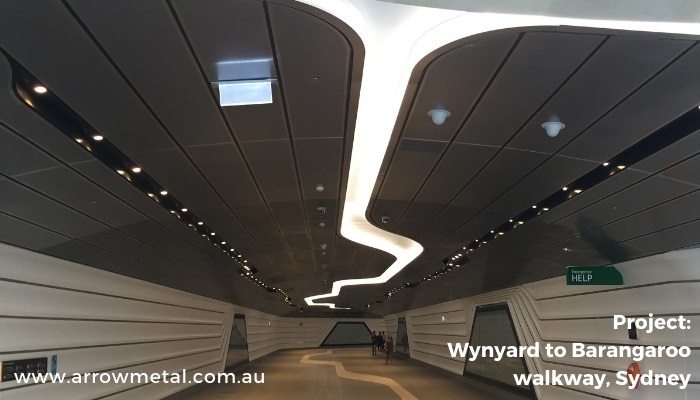 You'll also find our perforated metal and wire mesh in other Australian states too, including Brisbane's ferry terminals and even at a residential home in Perth.
Here are just a few reasons why we're the trusted perforated metal partner for architects and designers across Australia:
Expertise that matters: We've been in the business of making perforated metal for over 25 years, giving us exceptional knowledge of perforated metal and its capabilities. We make sure we understand every detail about your project and its requirements, to find you the perfect solution.
Advice that counts: We'll work with you to find you the most cost-effective way to achieve the result you're looking for, that's within your budget and timescales. We'll always give you honest, impartial advice about the best perforated metal products for your projects.
A solutions-driven approach: Got a tricky brief? We love a challenge! We're always thinking outside the box. We have the expertise to create even the most complex perforated metal patterns, without compromising quality or performance. We'll bring your architectural ideas to life, in collaboration with you at every stage.
Fast and efficient delivery: Need perforated metal last minute? Our in-stock perforated metal sheet can be shipped next working day, Australia-wide. If you need a custom product but have a tight deadline, we'll do everything we can to make it happen.
Stress-free ordering support: You'll always know how your perforated metal panel order is progressing, through your own named Arrow Metal contact who oversees every stage and keeps you updated. From initial enquiry to on-site delivery, we manage it all – so you can concentrate on your project and not chasing up products.
Order perforated metal or make an enquiry today
Tell us what perforated metal product you're looking for and we'll give you a detailed quote within 24 hours. Get in touch with our expert team today to chat through your project on (02) 9748 2200 or send us an online enquiry.
Posted: November 26, 2019
---