Perforated metal feature wall: Vogue Codes Summit 2017
Arrow Metal helped to ensure that this year's prestigious Vogue Codes Summit was a stylish success, producing a unique perforated metal feature wall to welcome guests to the annual event.
The perforated metal feature wall boasted a sophisticated, bespoke design produced especially by Arrow Metal for Vogue Codes Summit 2017.
Now in its second year, the Vogue Codes conference showcased the world of successful start-up businesses and emerging entrepreneurs.
Partnered with Westpac and Telstra, the event was held this year at Barangaroo and offered talks, panel discussions and Q&As aimed at empowering the next generation of business owners.
Topics included mentoring, women in business and technology plus networking opportunities with some of the fashion industry's biggest and brightest players.
Perforated metal feature wall – fast turnaround
The bespoke perforated metal feature wall was designed to be a focal point at Vogue Codes Summit – and organisers needed it delivered fast to a tight timescale.
Working closely with Jay Productions & Events, Arrow Metal's team produced the perforated panel within just three days, to exact specifications, including initial drawing, manufacture and delivery, working with the organisers at every stage to keep them updated on progress.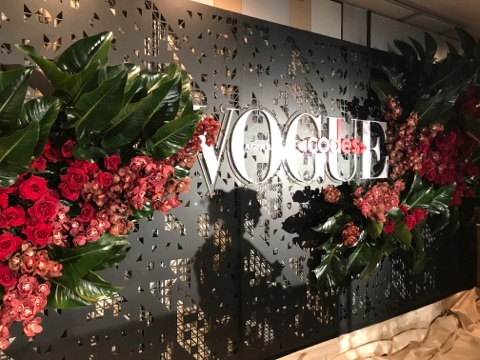 Event coordinator: Jay Productions & Events
Perforated metal design expertise
Producing a bespoke perforated metal feature wall to a tight deadline may be a challenge for many metal manufacturers, but Arrow Metal's unrivalled expertise and ability to create even the most intricate perforation designs gave Vogue Codes Summit the ultimate fashionable finishing touch.
The unique perforation pattern of the feature wall was created by Arrow Metal's state of the art machinery,  custom tooling process and CAD drawing, which make it possible to perforate metal with any intricate design, including logo, illustration or image.
Explore more bespoke design projects Arrow Metal has completed, including panels for Oatley Station Footbridge and Narellan Town Centre.
Posted: August 10, 2017
---