Perforated metal facade systems guide
Perforated metal facade systems are the architectural equivalent of building gift wrap. Available in a whole range of patterns, from classic round and square schemes to the most elaborate make-your-own creations, a well-designed perforated metal facade instantly transforms the most uninspiring, bland building and structural shape into a much more fascinating form.
But it is not just outward appearances that benefit from perforated metal facade systems. You can customise the facade to give interior benefits, too. Making a building great to look at, and great to be in.
Let's take a look in more detail at the advantages of perforated metal facade systems, design options, installation information and some of Arrow Metal's inspirational projects to feed your facade creativity.
What are the benefits of perforated metal facade systems?
Perforated metal facade systems offer considerable advantages for modern architecture projects. Through clever and considered pattern design, you can:
Passively control building comfort: Through the size of the perforations, you can tailor building ventilation, natural light, shading and reduce solar heat and glare, to maximise energy performance and occupant environment.
Improve acoustic performance: Perforated metal is a great solution to noise issues. When used together with acoustic materials, the sound flows through the metal into the material, reflecting, absorbing or scattering unwanted sounds, depending on the specification. It is used this way in interiors and also often in exterior perforated metal facade systems too, to block out and reduce unwanted outdoor noise. Find out more about perforated metal for acoustics in our blog here.
A light facade solution: You may think that a perforated metal facade would imposing, dark or restrict views. But select the right size and shape of holes and you will find that light shines through, creating a sheer veil of privacy that maintains the outlook at the same time. The folded perforated metal facade panels that Arrow Metal manufactured for Infinity Apartments in Canterbury is a great example of the sheer effect you can achieve. It is all about choosing the best pattern that will achieve your performance requirements.
Design options for a perforated metal facade
When it comes to designs for perforated metal facade systems, almost anything goes. Because we can perforate metal with any design, you have complete creative freedom for your facade panels.
At Arrow Metal we have the manufacturing capability to create facade panels that are perforated with your company logo. Or your branding slogan. Any words, pictures or illustrations you want to feature can be achieved through CAD drawing and our advanced punching technology for an exact match, including its unique details.
Just take a look at our facade project for Wayside Chapel for example, which involved replicating their motto in perforated metal.
We can make facade patterns that feature one shape, two shapes or many varieties, even on the same panel. The only thing you will need to consider is whether your desired pattern will give you the performance results that you need. That is where our expert team can really help.
We will make sure that your design idea not only achieves your aesthetic objectives but performs as it needs to and fits in with your budget and timescales, too. We will suggest any tweaks to your pattern design to make it cost-effective and achievable for all your project goals.
Facade colour choices and finishes
Want to make a big impact? The go bold with colour for your facade. A vibrant coloured perforated metal facade is a bright idea especially if you do not have a big budget. A strong stand-out colour applied to a basic standard pattern panel is a low-cost way to add visual interest and durability. Different finishes are available depending on the base metal you are perforating for your facade. Talk to our team to find out more about your options or read our blog on perforated metal finishes here.
Installation and support for perforated metal facade systems
When you order perforated metal facade panels from Arrow Metal, we make installation easy for your on-site team. During production we indicate on each panel through numbers or special marks – which cannot be seen when installed – the order and positioning for every panel. This makes installation seamless and quick. And is particularly useful for very intricate designs and panels that make up a composite image, logo or words. 
For further design and installation information about perforated metal facade, download our Perforated metal balustrade guide: Design tips and considerations 
Perforated metal facade systems: Arrow Metal project gallery
Browse our Project gallery to learn more about some of the perforated metal facade panels that we have manufactured for major architectural projects across Australia, including Bay Street apartments in Brighton-le-Sands and a the beautiful facade at Cowper Street, Granville which features lines of poetry and a mural.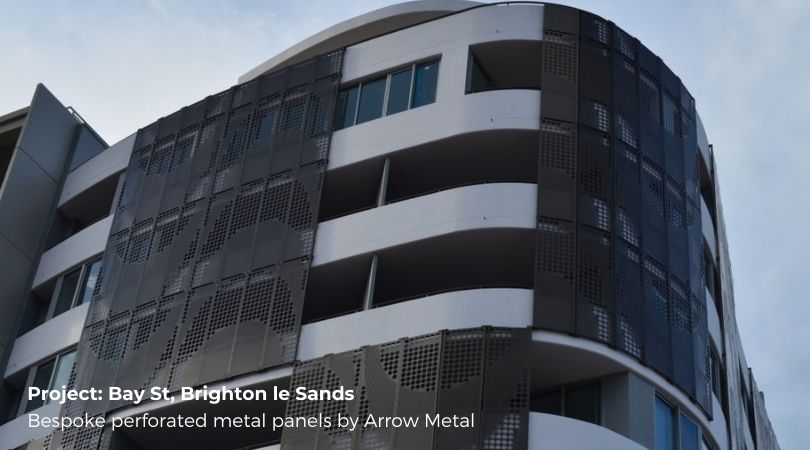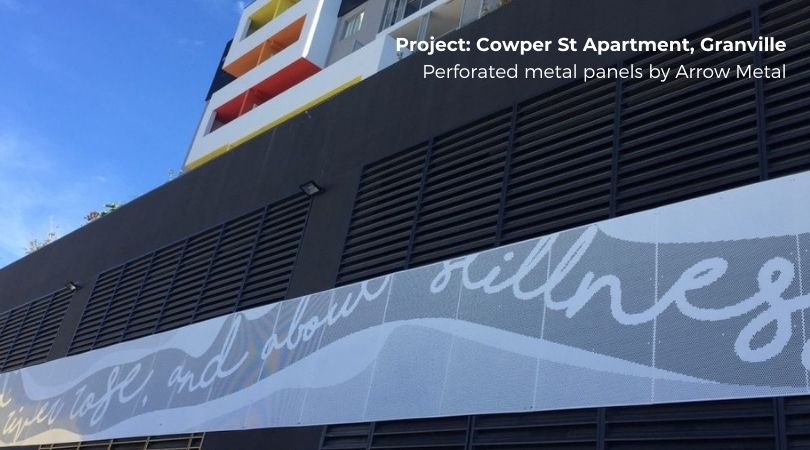 To explore our range of standard and made-to-order perforated metal patterns, download our perforated metal brochure. Or talk to our team about creating your own custom facade design on (02) 9748 2200. You can also make an online enquiry here.
Posted: March 8, 2021
---