Perforated Metal Colours Guide
How do you create perforated metal that pops, without blowing your budget? The answer is colour. Perforated metal colours are applied after manufacture at the finishing stage. Which means that you can easily add your preferred tone to either standard pattern or your own custom-designed perforated metal, creating panels that make an impact and meet all your project goals.
Colours are a great way to make a stylish statement for interior features and exterior facades, screening and cladding. It's well known that colour influences emotions too, so if you're clever about your spectrum selection, you can shape a space and a building's impression by using just the right shade.
Here's more information about the colouring process at Arrow Metal, colour options, care and warranties and a look at the colour trends for 2021:
How perforated metal colours are applied
Perforated metal colours are usually applied through a process called powder-coating, as this is suited to common types of perforated metal including steel, stainless steel and aluminium.
During the powder-coating process, dry paint powder is applied to your perforated metal panels electrostatically. The panels are then cured, to create a very hardwearing, durable and tough coloured surface. Because no liquid paint is involved, you can create much thicker and uniform colour coatings, without any paint run.
If you are using aluminium, you also have the choice of an anodised colouring process that improves durability, too. Anodising increases the natural oxide layer of the aluminium at the same time as adding the colour, resulting in a beautiful coloured surface that will never peel or flake.
Perforated metal colours: Available shades and top 2021 trends
Powder coating colour choices are extensive, ranging from bright and bold solid colours to glossy metallics and satins.
Anodised perforated metal colours also come in a whole range of shades, from satin silvers, greys and blues to greens, gold and bronze.
Colour experts have predicted that popular colours in 2021 include bright and sunny yellow contrasted with a soft grey. Other shades in the colour forecast include warm and soothing neutrals, back-to-nature greens, citrus and throwback tones of teals and reds.
To give you an idea of the impact you can achieve just by adding colour to perforated metal, take a look at our projects for Blacktown Tennis Centre and Basement Brewhouse.
Blacktown Tennis Centre features a large perforated metal sports mural finished in a vibrant and energetic shade of red.
Whilst Basement Brewhouse's perforated metal ceiling panels are finished in Antique Gold, matching the venue's metallic interior theme.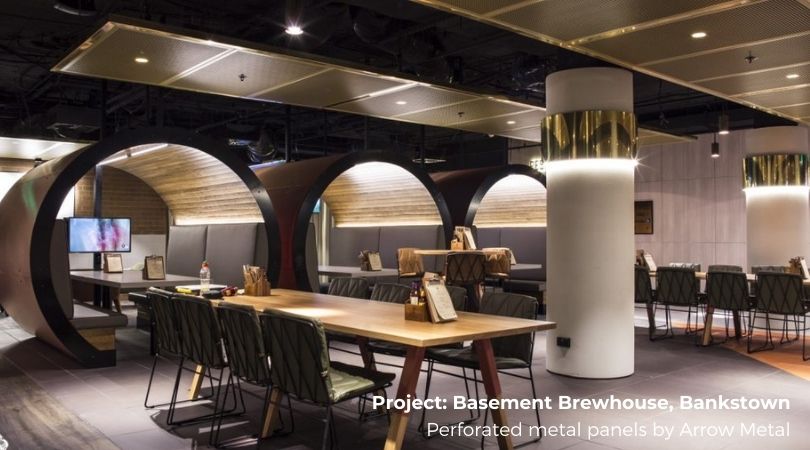 Colour finish warranties and care
Your new perforated metal panels may be covered by a colour warranty, depending on the coating you specify and the coating manufacturer.
It's important to note any special care instructions or maintenance that's required to ensure your warranty is maintained. In most instances, regular and gentle cleaning with a mild detergent and a soft non-abrasive cloth is all that's needed to take care of coloured perforated metal surfaces.
Cleaning should be carried out at least every 12 months or more often, depending on the environmental factors and level of pollutants that the metal is exposed to. Make sure you check what your coating manufacturer advises for specific conditions, especially if the installation location is in a coastal or industrial environment.
Perforated metal colours & patterns: Explore your options with Arrow Metal
Talk to our expert team to see how you can transform your project's perforated metal through colour. As one of Australia's top perforated metal manufacturers, we produce a wide range of standard and custom-designed perforated metal panels for architecture projects all over the country. Call us on (02) 9748 2200 or send us an online enquiry here with details of your project and we'll be in touch.
Posted: January 12, 2021
---