New Design Alert! Hexagon Perforated Metal Collection out now!
Looking for an edgy perforated metal design? Then you'll love Arrow Metal's new Cosmic hexagon perforated metal collection!
The new Cosmic range features five brand-new hexagon perforated metal profiles, and two that are already in our made-to-order range, each with its own take on the six-sided shape.
The Cosmic hexagon collection is the latest release from our punching machinery as we grow and expand our range of standard profiles, with more architectural patterns and collections to come. Our machinery can create a variety of unusual hole styles and shapes through specialised tooling.
Here's everything you need to know about Arrow Metal's new Cosmic collection, including specification details, customisation options, and how to order.
New Cosmic designs close-up: Hexagon perforated metal styles revealed
The Cosmic collection offers a wide choice of hexagon hole arrangements, to suit all types of interior and exterior architecture and design projects. Lead times for all standard orders are 2-3 weeks:
Orion: Orion – P6101 profile – is a chunky, widely spaced hexagon perforated metal pattern, ideal for projects that need stronger profiles. Featuring the smallest hexagon holes in the range, Orion has 10mm AF hexagons laid out in a 25mm pitch and a 32% open area.
Atlas: The Atlas profile has a close and clustered hexagon pattern, achieved by its large open area of 60.5%.  Atlas has 14mm AF hexagon holes and an 18mm pitch.
Maia: Maia is a traditional honeycomb pattern but with a delicate edge. Featuring 20mm AF hexagons and a 23mm pitch arrangement, Maia's 75.6% open area – the biggest in the range – creates an open yet eye-catching decorative design.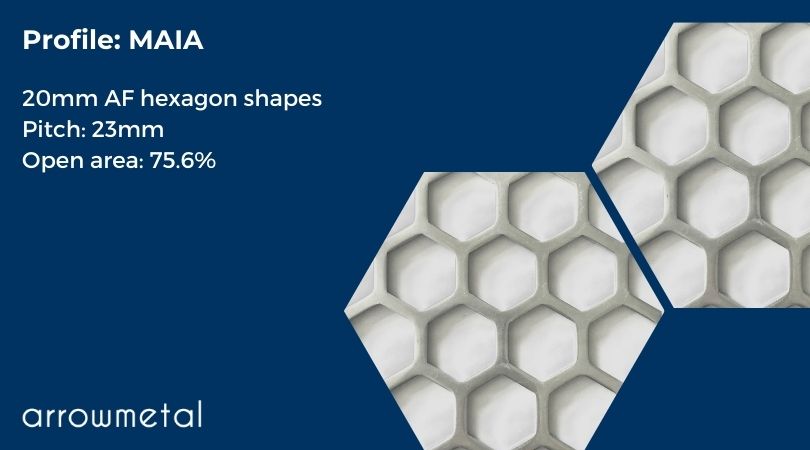 Electra: If you want a design like Maia but with a more robust aesthetic, Electra is a thicker honeycomb profile. Electra features the largest size of hexagon holes of 28mm AF, a 34mm pitch, and a 67.8% open area.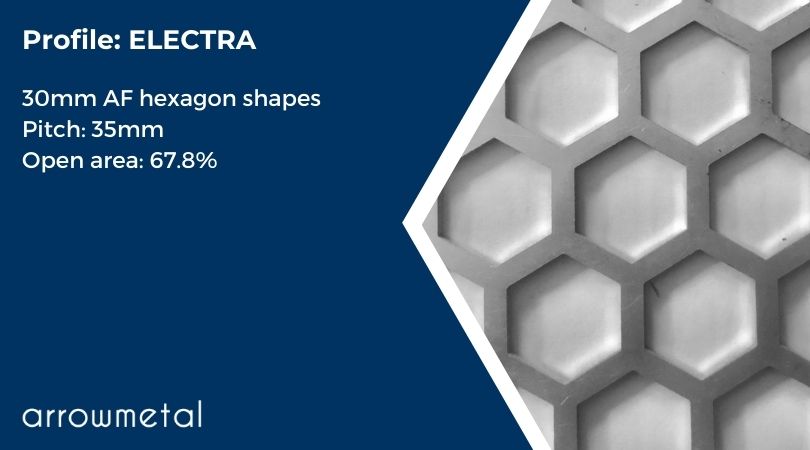 Nebular: The most unusual hexagon perforated metal design in the range, the Nebular profile features a series of elongated, stretched 36.95mm x 44mm hexagons, set alongside regular 20mm AF hexagon shapes. Nebular has 70.8% open area.
Celestial: Celestial is our popular P610 hexagon pattern. Celestial features 10mm AF hexagons, with a 12.5mm pitch and a 64% open area.
Galactic: Galactic is P628 profile and it is a great alternative to Electra if you want large hexagons but a more solid profile. Galactic has 28mm AF hexagons, a 38mm pitch, and a 54% open area.
More designs will be released in future, as new patterns are created.
Cosmic collection base metals and panel sizes
The Cosmic hexagon perforated metal range is available in a choice of metal types, with options to suit interior use and exterior applications. You can order designs in:
Aluminium
Stainless Steel
Brass
Mild steel
Galvanneal
Pre-galvanised steel
Panels are available in a range of popular standard sizes and thicknesses, including 1.2mm, 1.5mm, 1.6mm, 2mm, and 3mm, depending on the specified metal type.
Customising your hexagon perforated metal profile
All of the patterns in our new Cosmic collection can be customised to suit your exact requirements. We can make variations to the pitch, hexagon size, and open area percentage. All profiles can also be finished in a range of durable coatings and colours.
If Cosmic has inspired you to create your own hexagon design, we can manufacture a custom profile using CAD drawing, giving you extensive creative scope. Talk to our team to discuss your bespoke pattern options, including base metals and finishes, and approximate lead times for your order.
Order hexagon perforated metal for delivery Australia-wide
Call (02) 9748 2200 to order perforated metal panels from our Cosmic collection or to discuss a bespoke hexagon perforated metal order. You can also make an online enquiry here.
Posted: July 20, 2021
---