Metal Interiors for restaurants
From high-end dining to burger bars and bistros, many modern eatery interiors share one common ingredient: metal. Metal interiors for restaurants using perforated metal and wire mesh have never been so on-trend.
Whether designers want to create opulence and glamour, a contemporary industrial vibe or an interior that really shines, the inclusion of metal is a feast for the senses.
From brass to copper, gold and stainless steel, the sheer range of metal materials, mesh and perforation styles creates endless opportunities for designers to dish up stunning metal interiors for restaurants.
Here are just a few of our favourite dining décor styles that showcase the flexibility and versatility of metal in its many forms:
Digging deep: NYU, Oderzo, Italy
Roman ruins combined with polished perforated metal – NYU has one of the most unusual metal interiors for restaurants we've ever seen. A completely unique dining experience designed by I M Lab/Alessandro Isola, NYU uses perforated metal screens to give its customers an interchangeable view of their unique surroundings. The minimal and modern metal interior perfectly complements the historical elements of the site without distracting diners from the ancient ambience.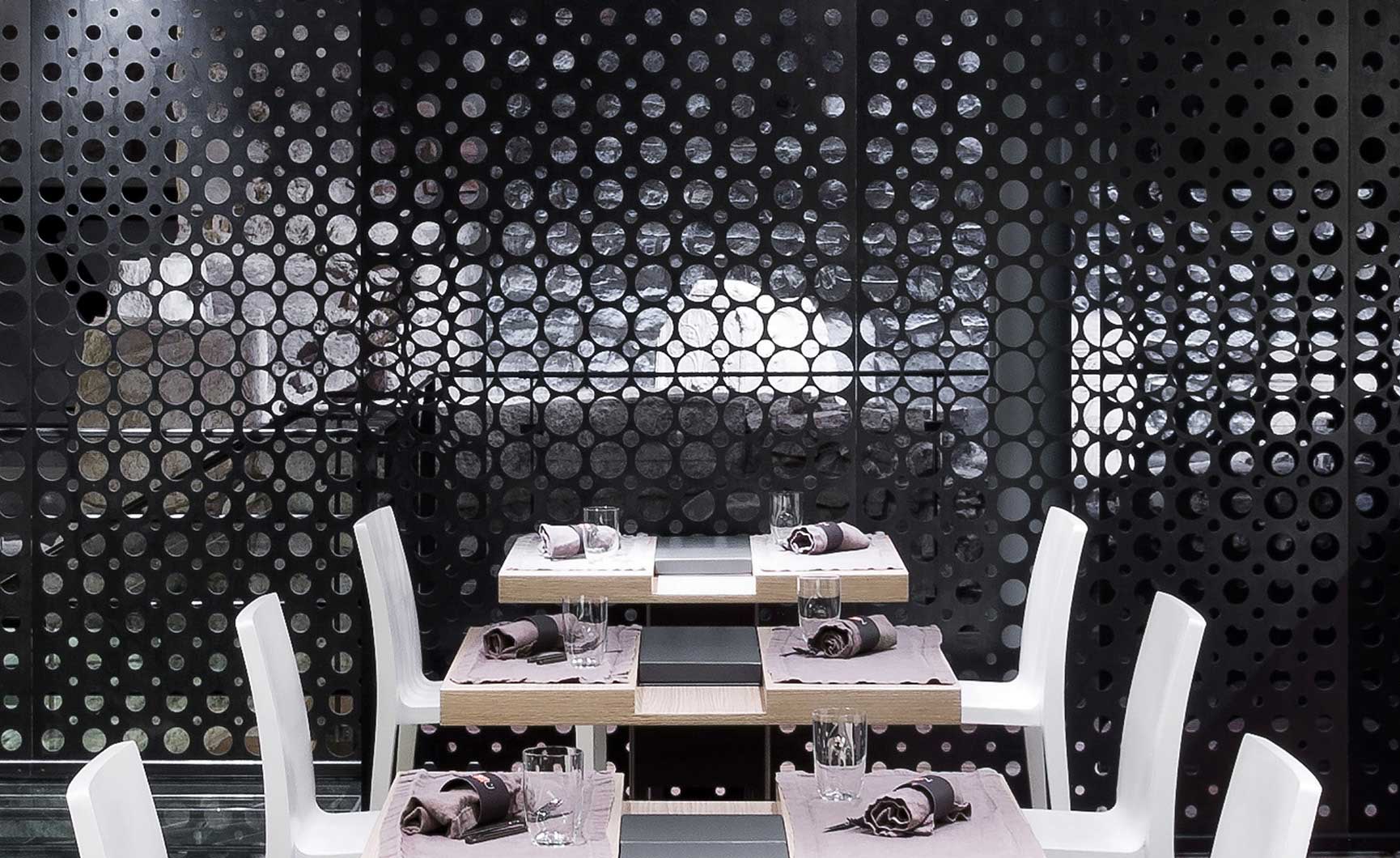 Images sourced from Alessandro Isola 
Gluten free gourmet: Noglu, Paris
Pure and wholesome dining is on the menu at Noglu restaurant in Paris. Designed by Mathieu Lehanneur, the gluten-free restaurant and patisserie is a comforting and cosy café featuring carved, cave-like wall openings which are topped with brass-finish perforated metal. The metallic touches combined with natural marble, soft pink walls and shining metal furniture make Noglu a glamorous gluten-free retreat.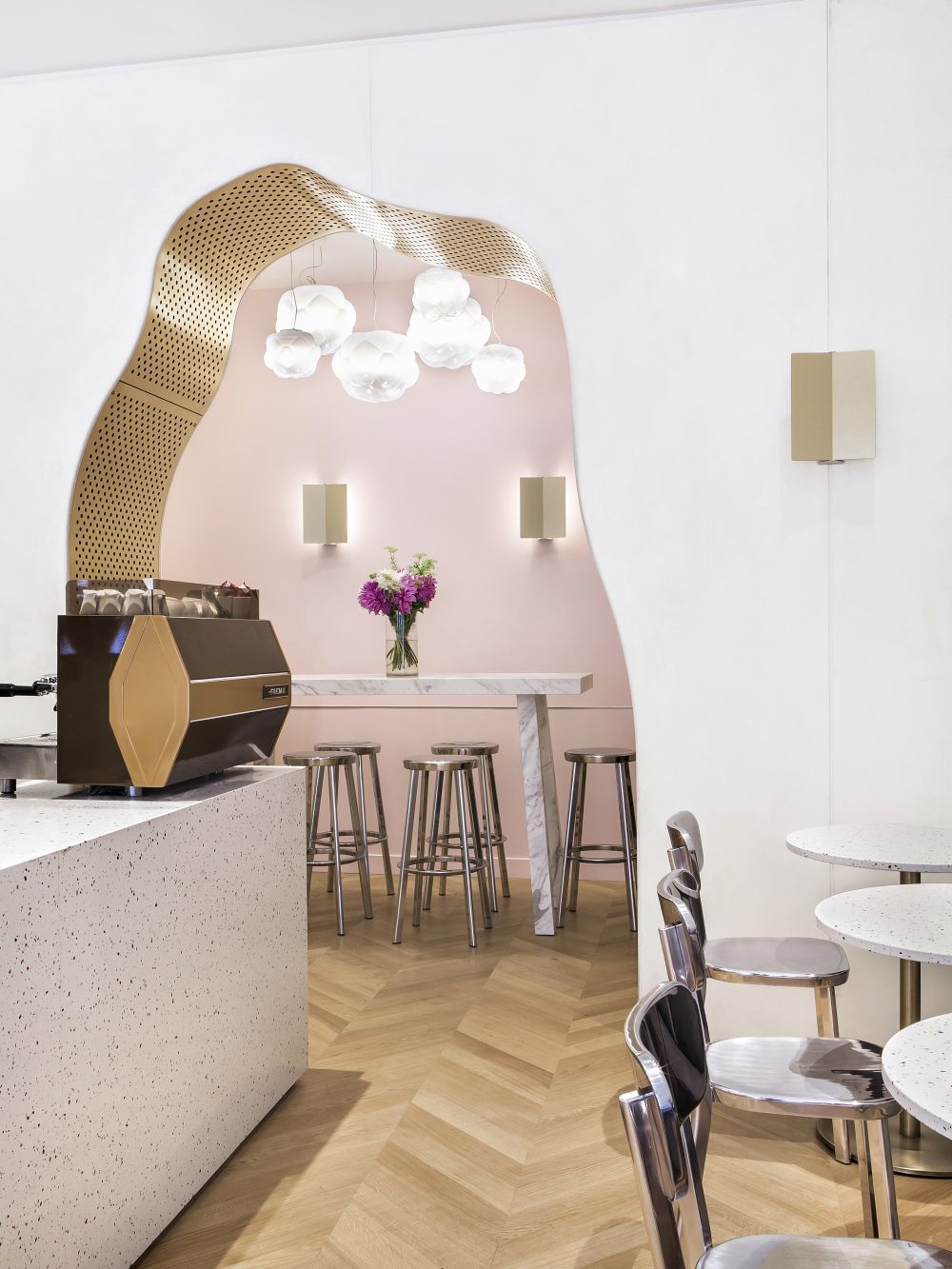 Images sourced from Mathieu Lehanneur
Fresh look: Freshigh Juice Bar, Shanghai
It's not just the juice at this Shanghai bar that's fresh – the cut metal really makes a refreshing change when it comes to metal interiors for restaurants. The bright green stainless steel cylinders don't just look good, they also act as covers for the air conditioning and ventilation systems – and hold all the fruit too! Great work by Dongqi Architects, which shows just how versatile and practical metal interiors for restaurants can be.
Image sourced from Dongqi Architects
Golden top: Basement Brewhouse, Bankstown
We're raising a toast to the perforated metal ceiling at Bankstown Sports Club's Basement Brewhouse and not just because it's one of our own Arrow Metal projects. We just love how the Antique Gold perforated metal ceiling tops off the metal fixtures throughout the bar, including the copper beer pipes and brewing tanks. Designed by Pony Design and installed by Beckton Joinery, this project had very tight timescales but our expertise ensured the bar was open on time.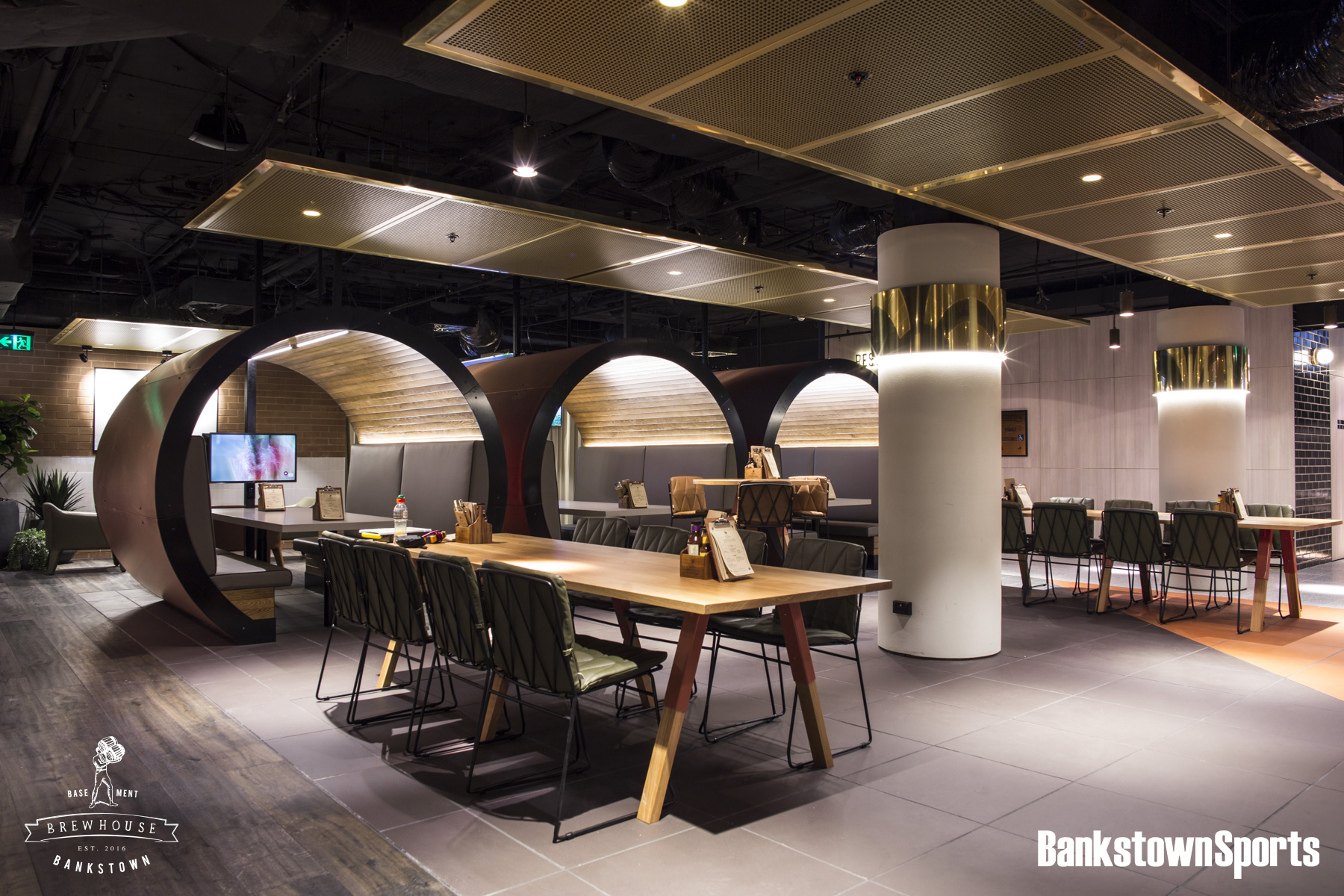 Food and fantasy: Blufish, Beijing
An underwater world of floating fish, aquatic life and coral awaits at Blufish, Beijing. Created by SODA Architects, the metal mesh fish and plants drift dreamily across the ceiling. The natural curved space of the restaurant and the translucent décor makes dining here an unforgettable, fairy-tale of food and fantasy.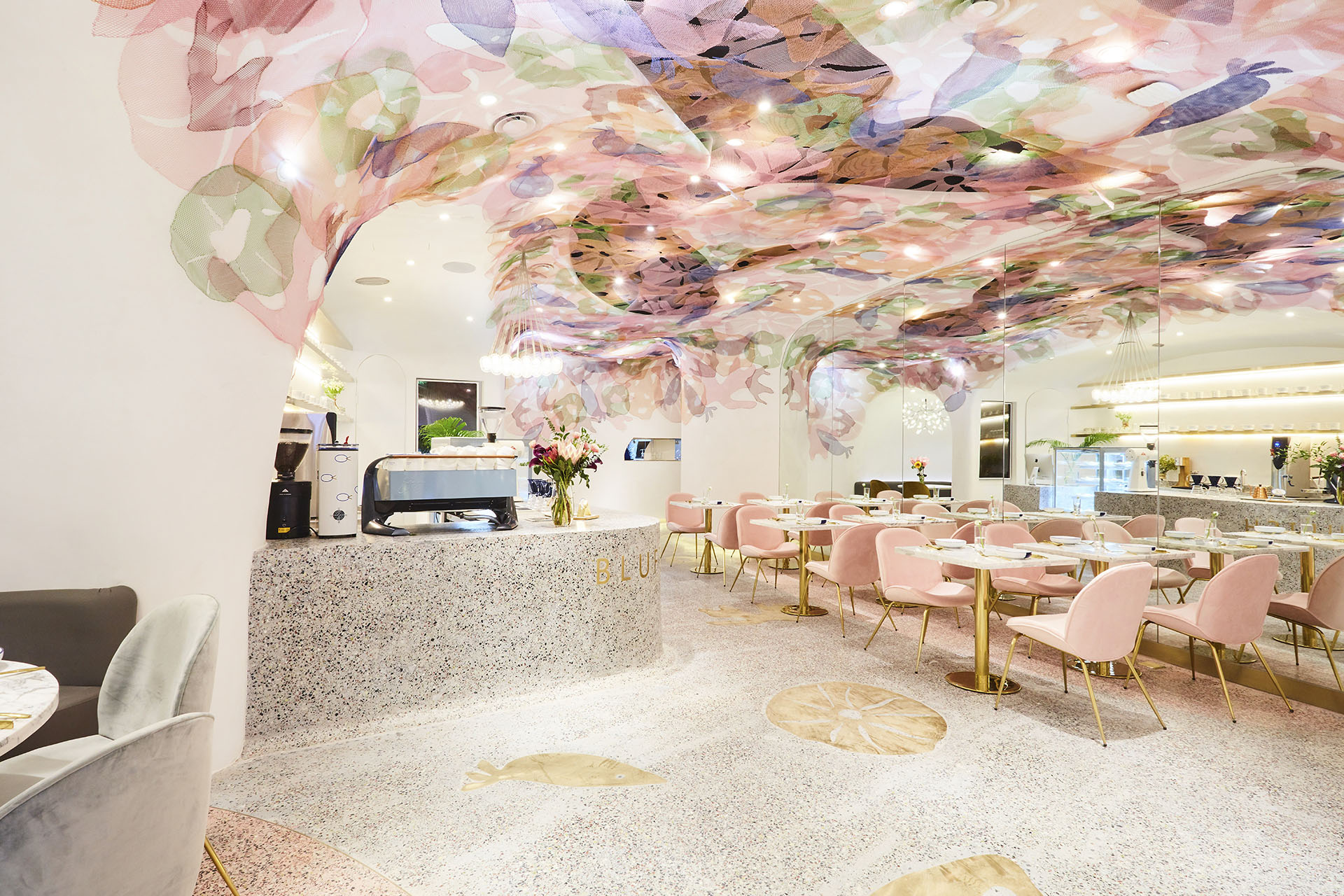 Images sourced from SODA Architects
Minimalist mesh: Hikki restaurant, Osaka, Japan
In the heart of Osaka's bustling business district is Hikki, which offers a rather restrained dining experience. Minimalist in style, the metal mesh used across the bar is the perfect simplistic product, giving the Alexander Yukhymets-designed restaurant a high-end yet industrial, contemporary edge.
Image sourced from Alexander Yukhymets
Coastal chic: PNY, Marais, Paris
Miami comes to the Parisian region of Marais at PNY. The burger joint designed by Cut Architects brings the colours of the coast to diners through the use of coloured metal mesh balustrade and seating in white, turquoise and pink, which just works so well with the warm wood representing palm trees.
Images sourced from Cut Architects
Metal interiors for restaurants expertise: Arrow Metal
Arrow Metal can transform woven or welded wire mesh and perforated metal into your perfect dining décor. Have a chat to our friendly team to explore design options including custom bespoke perforations, coloured and metallic finishes and fast delivery in-stock profiles. Call us on (02) 9748 2200 or send us an online enquiry.
Posted: March 1, 2018
---