Metal ceiling ideas: Raise interior style
If you're looking for an impressive way to raise the style of an interior space, things are looking up – a metal ceiling is one of the easiest ways to create an immediate impact.
The most common metal ceiling designs use wire mesh and perforated metal, not only because of the incredible light filtration effects that can be achieved but because of the creative flexibility of metal material, perforation design and finish.
Wire mesh and perforated metal ceiling designs
From leisure areas, bars and restaurants to stores, offices and schools, metal ceilings are specified for all types of commercial, retail and industrial projects.
Wire mesh ceilings can be installed using brass or steel mesh, adding instant industrial chic with a touch of old-fashioned glamour as warm and cool metallic trends continue to shine.
A perforated metal ceiling can be specified in a standard or bespoke design for a unique architectural feature, combined with sound-absorbing acoustic material to reduce ambient noise. Add in a custom finish of colour or metallic effect, and you'll have a metal ceiling that truly uplifts a space.
Metal ceiling inspiration from around the world: Top design ideas
Take a look at some of our favourite metal ceilings from around the world:
Cinematic light play: Juniper Innovation Centre, New Jersey, USA
You can't help but feel creative in this innovative office space. Designed by Valerio Dewalt Train Associates, the square perforated metal ceiling of Juniper Networks' new Innovation Centre in Bridgewater generates 'cinematic' light play against flowing glass walls, complementing Juniper's brand identity.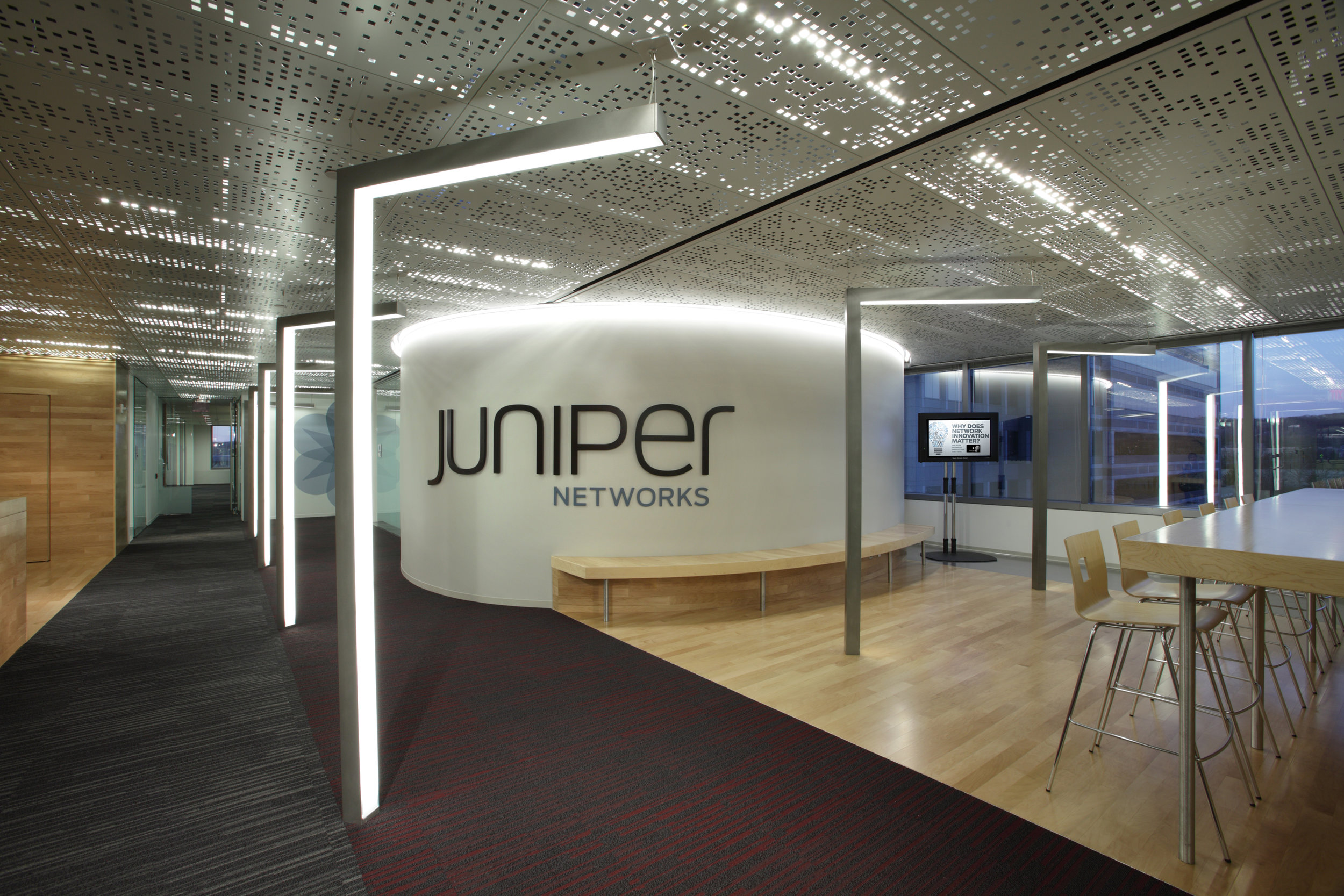 Image sourced from Valerio Dewalt Train Associates
A royal welcome: Waldorf Astoria, Beijing
Created as an interpretation of China's Forbidden City, the Waldorf Astoria Hotel in Beijing is a real treasure. Featuring a bronze perforated metal ceiling at the entrance, prominent use of the royal metal by Adrian Smith + Gordon Gill Architecture evokes the richness and luxury of the Waldorf Astoria brand, its high-end location and traditional Chinese architecture.
Image sourced from Adrian Smith + Gordon Gill Architecture
Stop press: School of Journalism, Columbia University, New York 
The architecture of the Toni Stabile Student Centre at the Graduate School of Journalism, Columbia University, is making headlines of its own. Featuring a stunning perforated white metal ceiling, matching the perforation design of the walls, the project won multiple accolades for architects Marble Fairbanks, including Architecture Magazine Annual Design Review Award and a Design Honour Award from AIA New York. Gently folding in its design, the metal ceiling combines round perforations with smaller, elongated holes for a unique and striking visual effect.
https://www.marblefairbanks.com/portfolio/toni-stabile-student-center/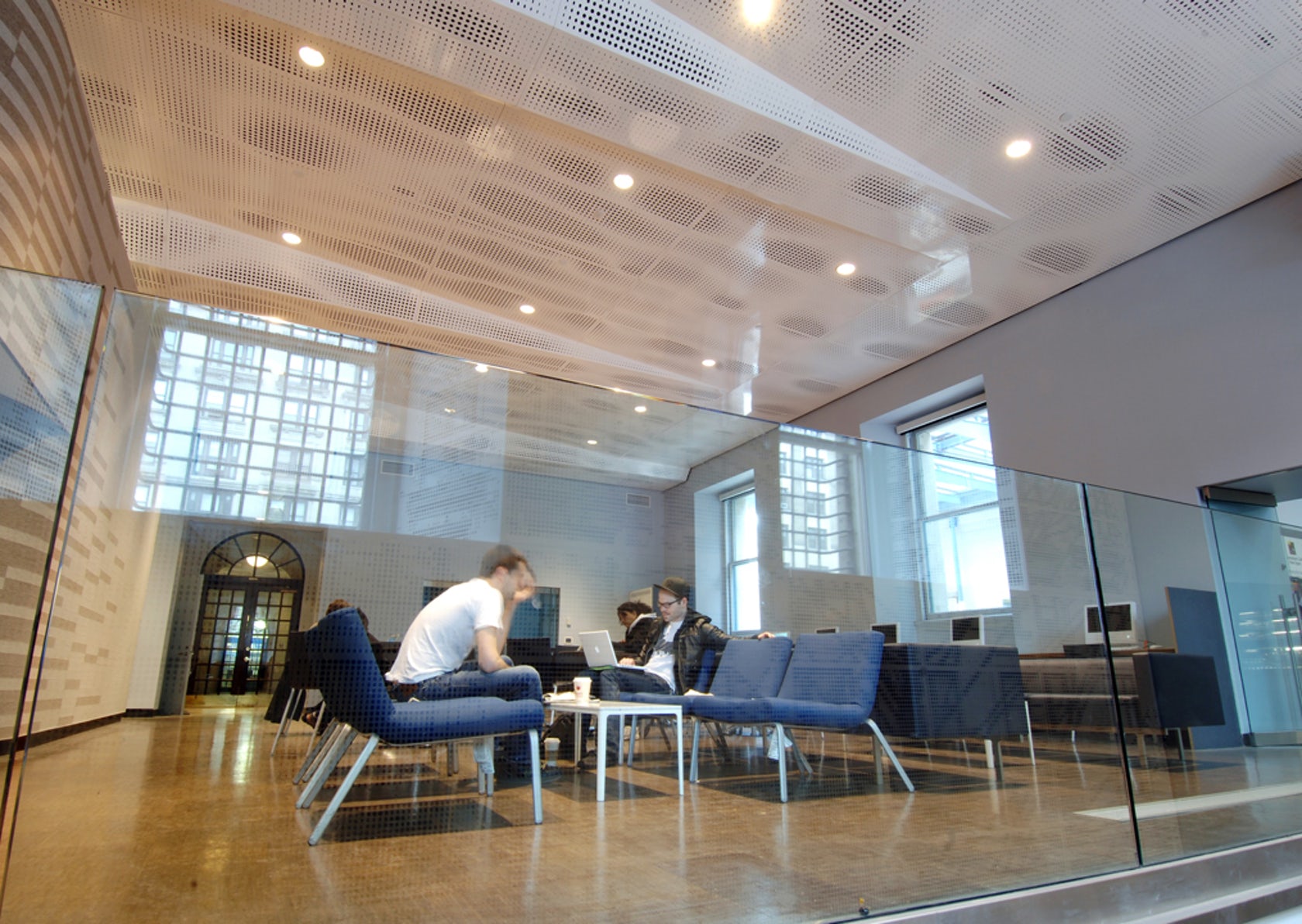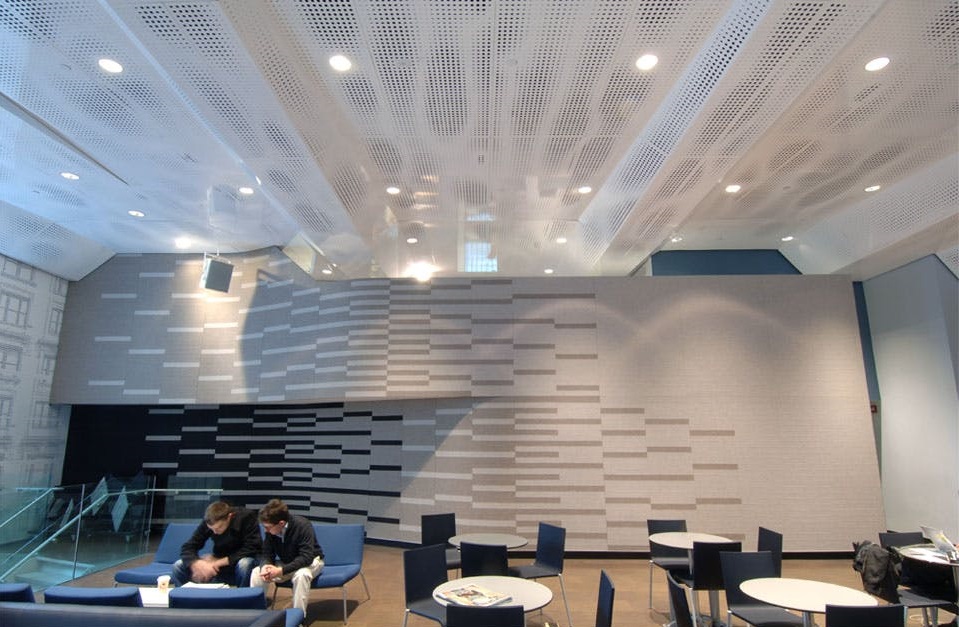 Images sourced from Marble Fairbanks
Fabulously faceted: Solar Mosaic offices, Oakland, California
This is no ordinary office renovation – check out the incredible metal ceiling of this open workspace! Created by architecture design-build studio Because We Can, the ceiling is designed to reflect light thanks to its combination of glittering gold and clean and crisp white perforated metal. Installed to hide the existing ceiling infrastructure, the perforated panels contain acoustic material to help reduce office noise.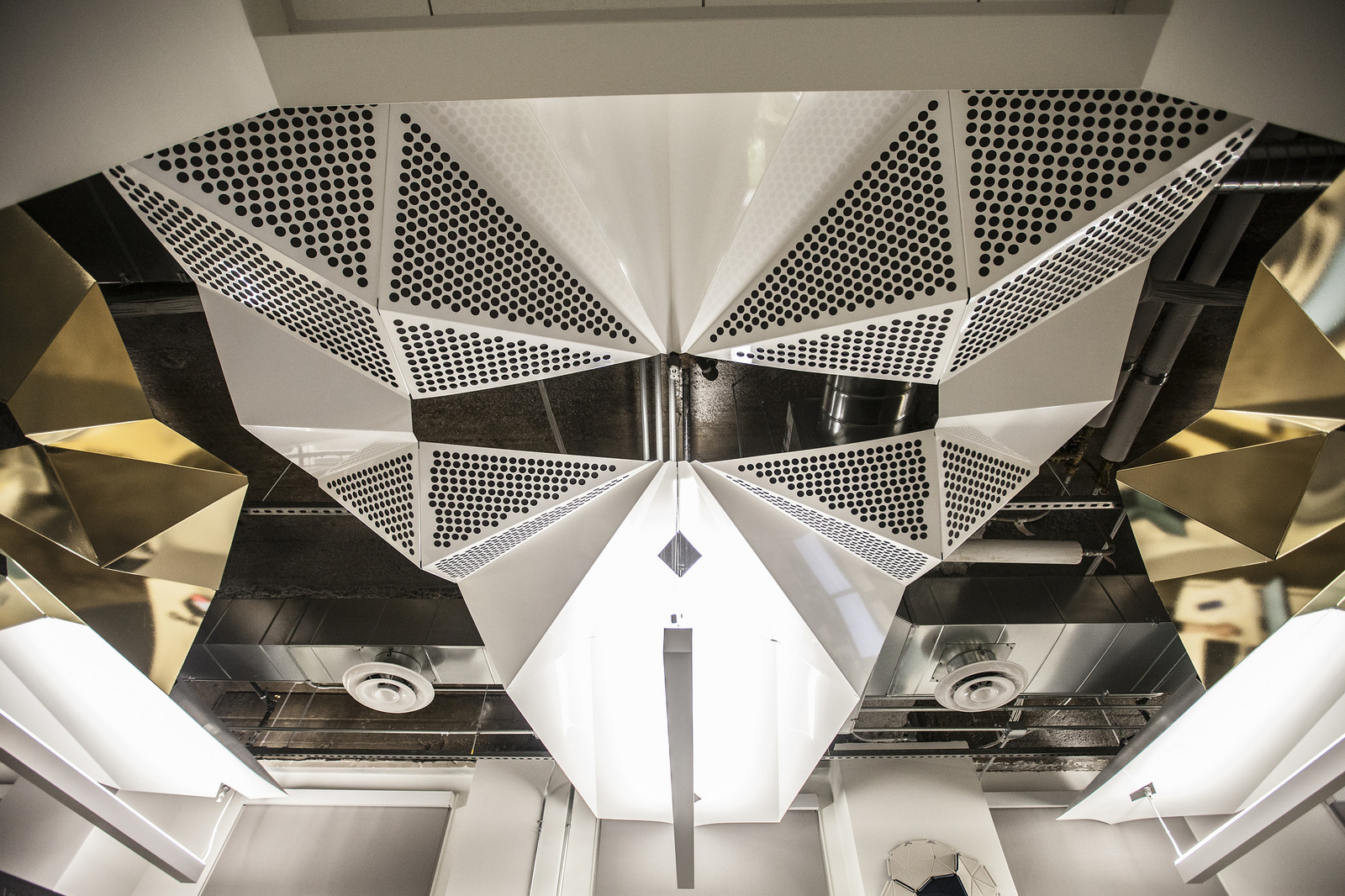 Image sourced from Because We Can
Shining bright: Basement Brewhouse, Bankstown Sports Club
It's simple, it's classic, it's an Arrow Metal project – and it's the perfect example of the impact a metal ceiling can make to an interior. Bankstown Sports Club's Basement Brewhouse has gleaming brewery equipment as an interior feature, so the ceiling was designed to add further light and shine. The timeless round perforation pattern is stylishly elevated with the addition of a metallic Antique Gold finish, complementing the metal features and the warmth of the interior's natural wood elements.
Above and below: GLG offices, Austin, Texas
Wire mesh is both the ceiling and the floor of parts of this office in Austin, Texas. Architects Clive Wilkinson used wire mesh for walkways and staircase balustrade for GLG, creating a sense of transparency, connectivity and openness. The mesh allows maximum light flow and visibility between floors.
Images sourced from Clive Wilkinson
Metal ceiling expertise: Arrow Metal
If you've got a design idea for a metal ceiling, we have the expertise. Speak to the Arrow Metal team to talk through your concept on (02) 9748 2200 or send us an online enquiry.
Posted: May 18, 2018
---