Keep building cool with perforated metal
Summer's finally here – and as temperatures rise there's no hotter way to keep buildings cool in both comfort and style than with perforated metal.
A perforated metal façade is the perfect architectural and sustainable solution to interior climate control in intense temperatures.
Keeping occupants comfortable is a breeze thanks to the natural ventilation of perforated metal, whilst the sheer choice of perforation pattern means there's endless creative design opportunities too, for a building that looks as good as it feels.
The heat is on: How perforated metal performs to keep buildings cool
There's no doubt that perforated metal has some cool abilities – and it's all thanks to its perforations and what it's made of.
By choosing the right metal material, hole size, shape, pitch and open area percentage, a perforated metal façade enables precise control of light and airflow, whilst also deflecting heat and solar radiation from the sun.
Carefully-designed perforations also mean building occupants benefit from shade and privacy without it affecting any landscape views.
A sustainable solution
With a choice of materials ranging from fully-recyclable steel to aluminium and finishes for increased durability, perforated metal façades are a cost-effective and environmentally-friendly way to keep buildings cool and warm all year round.
Demand on air-conditioning systems is reduced in summer, whilst its heat-retaining properties help keep buildings warm in winter.
Customised building facades for exciting exterior design
By choosing a perforated metal façade you don't have to sacrifice visual appeal for performance. At Arrow Metal we can make perforated metal sheets in almost any design of your choosing, advising you which patterns and perforations work best for building temperature control.
Our considerable metal knowledge means we have the expertise to create unique, customised building facades that have the 'wow' factor in terms of street appeal and interior ambience.
Arrow Metal: Perforated metal façades across Australia
We manufacture perforated metal facades for projects of all sizes across Australia.
Take a look at some of our finished facades: Wayside Chapel's sustainable skin features their own motto; Bayside St, Brighton Le Sands is a perfect example of the impact a customised façade can make.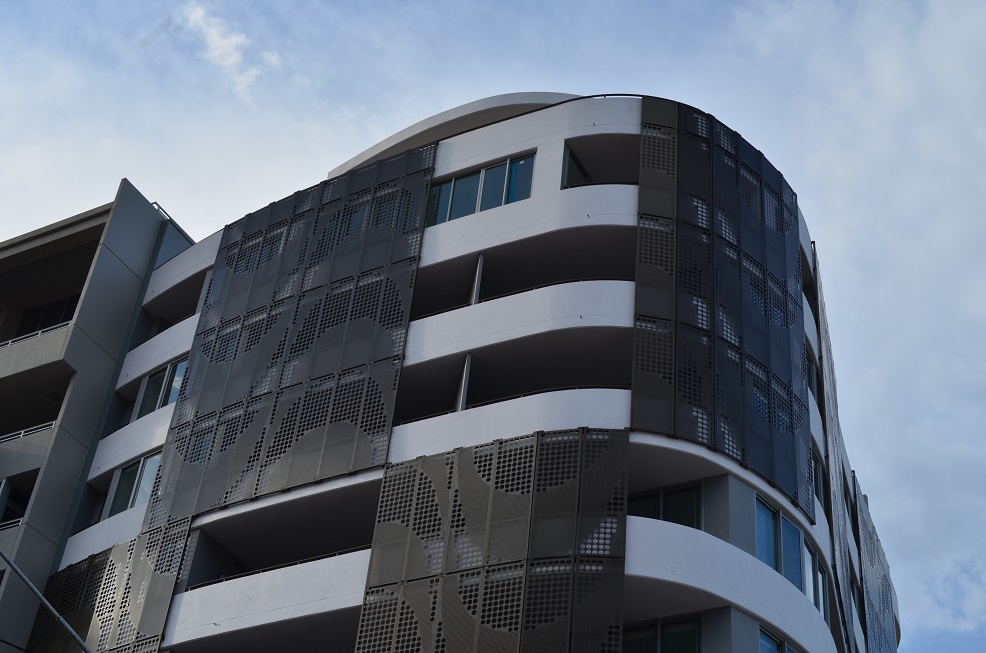 Speak to our team for friendly advice and expertise if you're considering perforated metal as an architectural solution for your building's temperature control. Call us on (02) 9748 2200 or get in touch online.
Stay in touch! Sign up to receive our monthly Newsletter.
Follow us: Facebook, LinkedIn
Posted: December 5, 2017
---