How perforated metal is made at Arrow Metal
Imagine having to punch every hole in perforated metal by hand? It's hard to believe that this time-consuming, laborious and imprecise method is how perforated metal was once produced. But today, thanks to modern technology, it's a very different story. So let's take a quick look at exactly how perforated metal is made at Arrow Metal, for many types of architectural uses like building facades, decorative screens, interior features, balustrades and cladding.
How perforated metal is made: The punching machinery
Did you know that there are, in fact, different types of machines and techniques used to perforate metal?
One of the most common traditional methods begins with a giant roll of metal, which is uncoiled and flattened then fed into the punching machine and perforated row-by-row. The perforated material is then cut to the specified length. This method is ideal for standard sheets of long runs.
A more modern advanced technique uses a digital punching press, which is controlled by a touch-panel and software for fast set-up. It perforates the pre-cut metal panel across different sections, according to pattern placement. This technique is particularly applicable in producing bespoke perforated material.
Both types of machinery are used to produce our perforated metal. Our Muratec/Wiedermann turret punching press is one of the fastest and most precise punching devices available, for quick, efficient pattern perforation of the very highest quality. You can learn more about the benefits of our turret punch machinery in our blog here.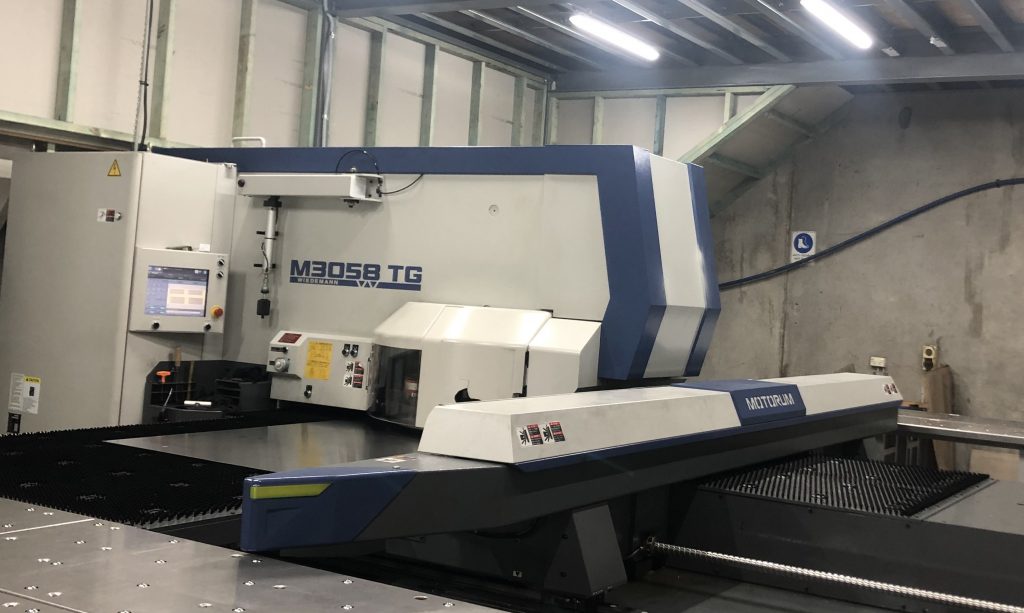 How perforated metal patterns are created
When metal perforation first began by hand, patterns were very basic and rudimentary holes designed for purposes like sieving and separation. As machinery invention has progressed, so has pattern choice, which has transformed the use of perforated metal from industrial to architecturally-designed, preferred aesthetic additions.
Today, we can create the most complex and intricate patterns, replicate a photo, punch a range of shapes in a single sheet and expertly perforate a piece of sheet metal up to five metres in length.
This extensive pattern choice and capability is thanks to a combination of modern tooling shapes and CAD – Computer Aided Design – technology. The pattern design is first transformed into a CAD drawing. This is then programmed into our machinery's software, which controls exactly where the metal is perforated and dictates which tool shape is used. Using this technique means we can replicate almost any design in perforated metal, whether it's an inspired illustration or a unique series of bespoke shapes.
It also means that you can easily adapt and tweak your custom design at CAD drawing stage before any metal is punched, with help and advice from our expert team of metal technicians. Giving you the reassurance that your finished perforated metal panels will look and perform exactly how you need them to, for every type of interior or exterior project.
Specify and order your perforated metal panels with Arrow Metal
Now you know a little bit more about how perforated metal is made, download our perforated metal brochure to browse through our in-stock, ready-to-ship panel range and made-to-order designs.
Or contact our expert team to chat through your own custom pattern ideas on (02) 9748 2200. You can also make an online enquiry here. We've created perforated metal for a wide range of architectural projects, from retail shops and public transport stations to schools, leisure centres and shopping malls. For inspiration and to learn more about our capabilities, take a look through our gallery of Projects across Australia.
Posted: February 9, 2021
---