Go big with large perforated metal panels
Want to make a big impression with your perforated metal design? Then choose large-sized holes! Large perforated metal patterns are big in style and impact, offering a very easy and cost-effective way to create a commanding aesthetic, especially when your budget is limited.
Let's take a look at some of our most popular large designs, the benefits of large perforated metal patterns, customisation options, and a couple of our completed large hole projects for inspiration.
What are the benefits of large hole perforated metal patterns?
Large perforated metal patterns are a great solution for many different types of perforated metal applications.
These types of designs are especially popular for screening and building facades, where maintaining views and natural light – without compromising privacy – are key requirements. A large pattern means the holes are large enough to see through with ease, without making occupants feel exposed.
They're also great for decorative and for large-scale building applications, where for instance you want to make a design impact from a distance or give a sense of transparency to features such as fencing and balconies.
Design options for large perforated metal patterns at Arrow Metal
At Arrow Metal, our made-to-order large perforated metal patterns are available in a range of hole sizes, from 25mm up to 70mm, in shapes including round hole, hexagon and square.
You can see how supersizing your holes significantly changes the finished effect for your project when we compare pattern P239 with P284. Both these designs are the same round hole shape, a staggered arrangement, and 58 percent open area, but P284 has holes that are five times bigger, producing a completely different aesthetic.
Different ways you can customise large perforated metal patterns
One of the greatest benefits of any type of perforated metal design is customisation scope. At Arrow Metal we can alter any of our made-to-order profiles, changing the open area percentage or hole size so that your panels look and perform as you need them to.
We can also manufacture your own design, fully customised to suit your project exactly as you want it. For example, if you don't want all large holes, you can add smaller holes and different shapes into the mix. We can work from drawings and JPEG files, translating these into CAD drawings for precision perforation that perfectly replicates your design in perforated metal.
We can also add colours, durable coatings, and effects to your panels, including curving and bending, delivering your finished metal direct to your site as a leading end-to-end provider of perforated metal products and solutions for projects across Australia.
Project ideas: Large perforated metal patterns
Our team has worked on many different architectural projects which specified large perforated metal patterns.
Cranebrook Shopping Centre is a great example of the impact a supersized perforated metal pattern can have. We manufactured this striking hexagon design as balustrade and car park fencing for the retail complex. Changing specifications required open area percentage alterations as the project progressed, but this was easily achieved by our expert team without affecting the end result.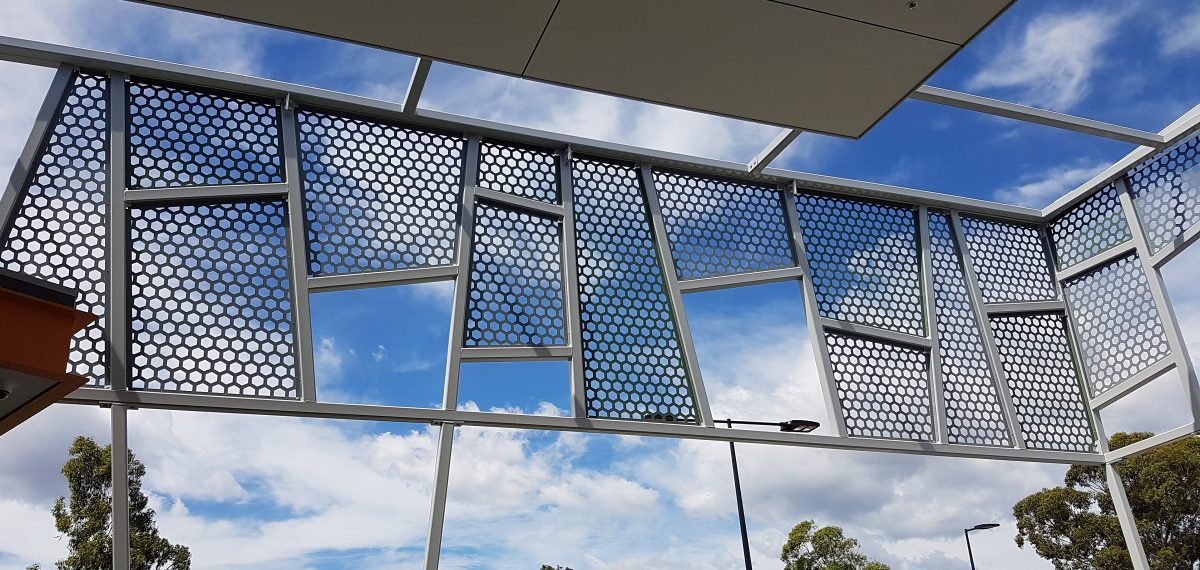 Whilst over at Bay Street apartments in Brighton-le-Sands, residents are enjoying the spectacular ocean views and privacy thanks to an impressive large hole facade that's perforated in the shape of a wave.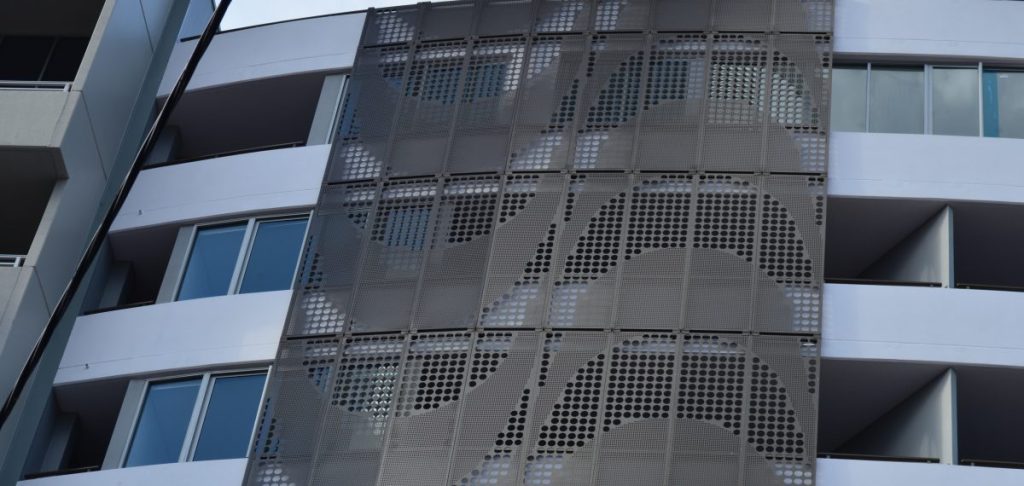 Explore your options for large perforated metal patterns
Talk to our team to discuss your pattern ideas and project requirements on (02) 9748 2200. We can advise which types of large patterns will suit your project, based on performance, appearance, timescales, and budget requirements. You can also make an online enquiry here and we will get back to you.
Posted: July 5, 2021
---