Try these different perforated panel patterns for your project
If you are exploring perforated panel patterns and are considering the classic round hole, why not break outside of the circle and try a different style of perforated metal for your next project instead?
At Arrow Metal we manufacture perforated metal in a huge variety of pattern shapes. And whilst round hole is certainly one of the most popular, there are plenty of other inspiring designs that might just suit your project, too.
Let's browse through some of our pattern profiles and the projects where they have been used, so you can see how these styles shape up when installed. All of these profiles are either in-stock ready to ship, made-to-order or are bespoke orders based on standard shapes.
And remember – if you like any of these patterns but need them customised to suit specific performance or aesthetic requirements, we can do that too. We specialise in custom perforated metal designs, with the expertise and capability to adapt any pattern to meet your project needs, adjusting hole size, pitch, and open area percentage.
We can also create completely unique perforated metal solutions, where you design the perforated metal pattern and we manufacture it using CAD drawing for exact replication.
Square perforated panel patterns to try
Squares are one of the most versatile perforated panel patterns that you can try. These four-sided forms can create a statement block formation or a grid effect, just by changing the open area percentage of the panel.
Take a look at the square pattern panels that we manufactured for this home renovation. Used as balustrade and roof edging, the squares of pattern P432 are the perfect match for the period property.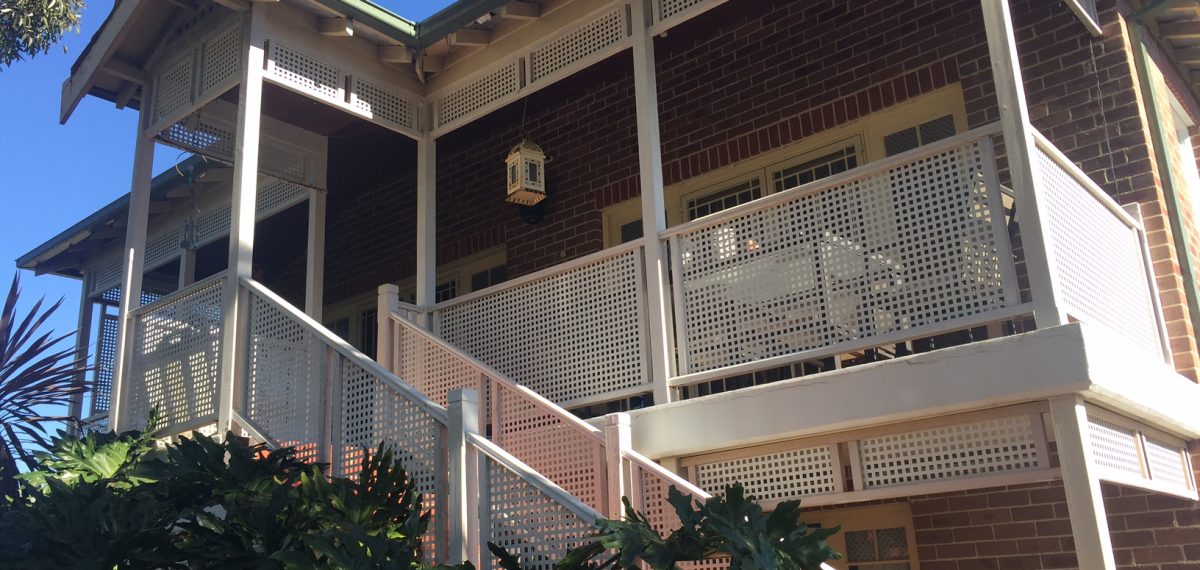 Or why not tilt the square, to achieve a completely different effect? The squares on these perforated panels that became display stands have a diagonal pitch instead of straight, turning them into diamond shapes – a shining solution for a Pandora jewellery retail launch! Try pattern P449 for a similar result.
Round-end slot perforated panel patterns to try
Round-end slot is one of our favourite shapes because you can achieve two very different effects just by changing the direction of placement. If the panel is placed vertically, for instance, you can create a running pattern of up-and-down lines that convey a real sense of movement. Place it horizontally, and you get a very neat stripe effect.
Whichever way up you prefer this hole shape to be, round-end slot is the business if you want a perforated pattern that is sophisticated. It's great for commercial developments – you can see just how beautifully it works at the prestigious George Place office complex in Sydney's CBD. We manufactured panels in round-end slot to adorn the lift and lobby areas. Some of the panels are backlit, enhancing the pattern's aesthetic effect. If you want to replicate this look for your project, try pattern P368.
Hexagon perforated panel patterns to try
Hexagon is a perfect pattern to try if you want something similar to round hole, but with a bit more edge. Glanced from afar it may appear round, but up close its true form is clear to see. Hexagon is an intriguing shape that's very modern in style and on-trend, as geometrics remain a firm architectural favourite.
Our project at Cranebrook Village Shopping Centre is a great example of the appeal of the hexagon hole. This particular pattern was architecturally designed to wrap up parts of the centre's exterior and car park.
If you want to replicate this style for your project, try pattern P628.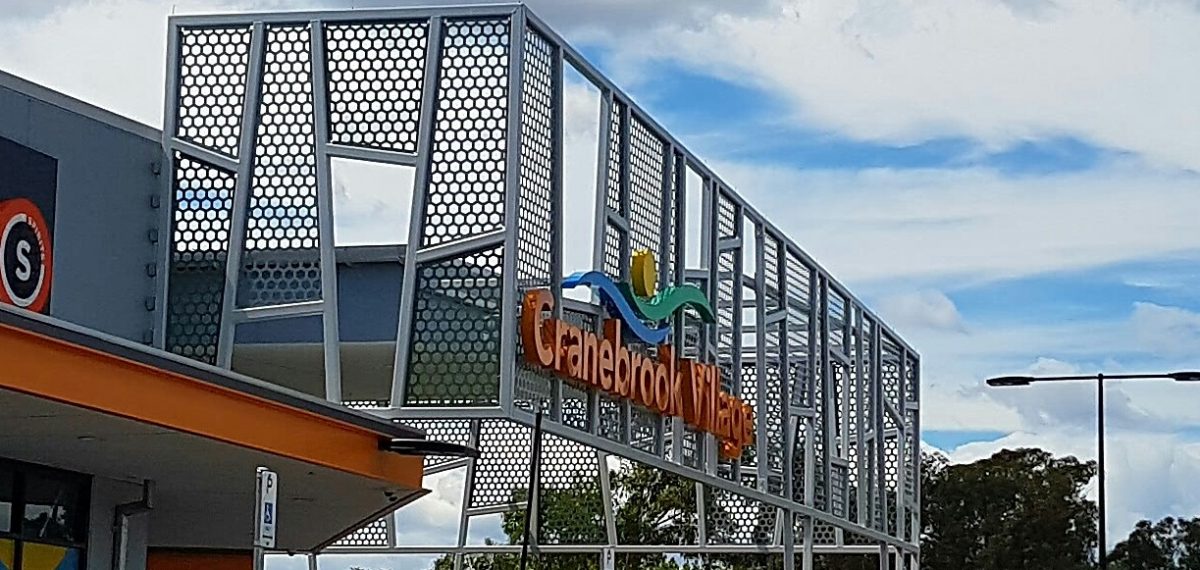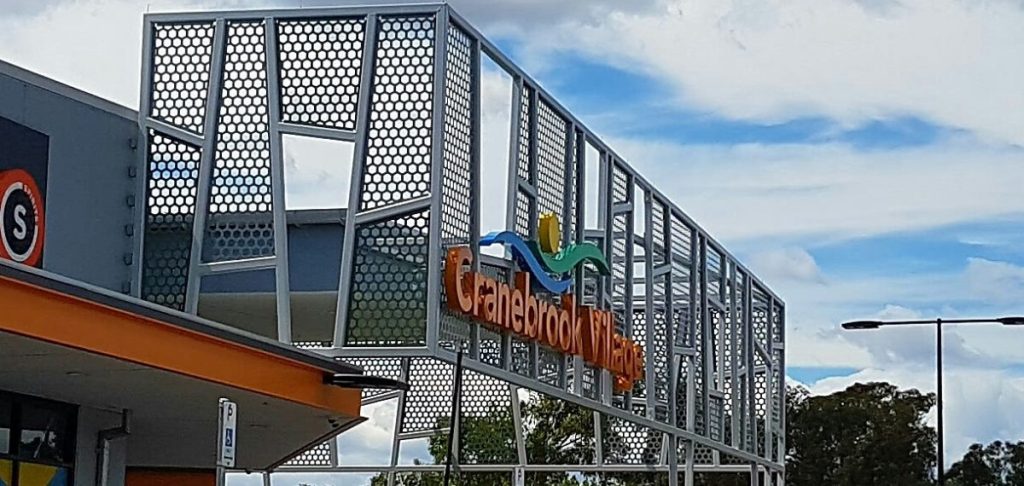 Custom and new perforated metal designs: Inspiration and possibilities
And finally, we have to mention some of our new designs that you won't have seen before. They feature soft edges and curved lines, or a combination of circle sizes, for a very unique look.
We can achieve these types of perforation styles thanks to our advanced punching machinery and tooling technology. If you are interested in these designs, have a chat with our team to see what's possible for your project.
Or browse through our Project library for more designs, including some fully customised panel ideas. Such as Hazelbrook train station which has an incredible 3D pattern, and Oatley station's very sharp, on-point triangular design.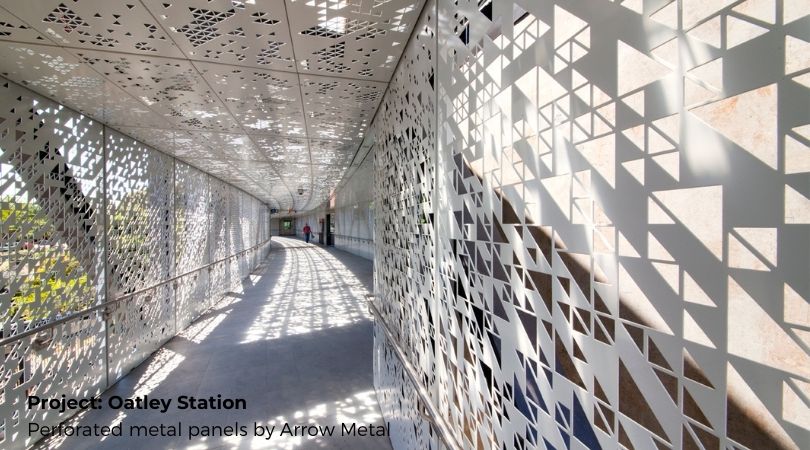 Call us to discuss your perforated metal project needs on (02) 9748 2200. Or send us an online enquiry here.
Posted: May 10, 2021
---