Creating personalised perforated metal
Did you know Arrow Metal can transform your photographs, illustrations, graphics and even favourite poems into personalised perforated metal?
Bespoke perforated metal is a unique way to create completely customised, contemporary architectural additions.
Our customised perforated metal service is used by architects who want the strength, durability and aesthetic benefits of metal for their project, but featuring their own design.
From complex geometric swirls to brand logos and phrases, we create personalised perforated metal sheets for all types of projects. From retail centres to high-end residential apartments, individual homes and transport.
How we make personalised perforated metal
Manufacturing personalised perforated metal requires absolute precision for replication of your image or design. At Arrow Metal we use a combination of CAD technology and state-of-the-art software-controlled manufacturing systems to guarantee perforation perfection.
From your images we produce CAD drawings, which give you a realistic idea of how the finished perforated panel will look. The CAD drawings are then fed into our sophisticated computer system, which programmes and controls our punching machinery for exact accuracy.
Production is overseen by our highly-experienced machine operators to ensure the highest quality. A finish of your choice can then be applied – from coloured coatings to durable finishes and metallic effects.
How personalised perforated metal is used
The beauty of bespoke designed perforated metal is that it can be used inside and outside – there's no limit to its application and appeal. Arrow Metal custom perforated metal is used as:
Residential balustrade: The homeowners of this Sydney property have given their home a completely personal touch using Arrow Metal custom perforated metal. The staircase balustrade and privacy screening throughout the property features a design based on one of the homeowner's favourite photographs.
Feature walls and murals: The vibrant mural we made for Blacktown's new $16m tennis centre has a sports-themed design. Our perforated metal panels are used throughout the facility for contrast and visual interest.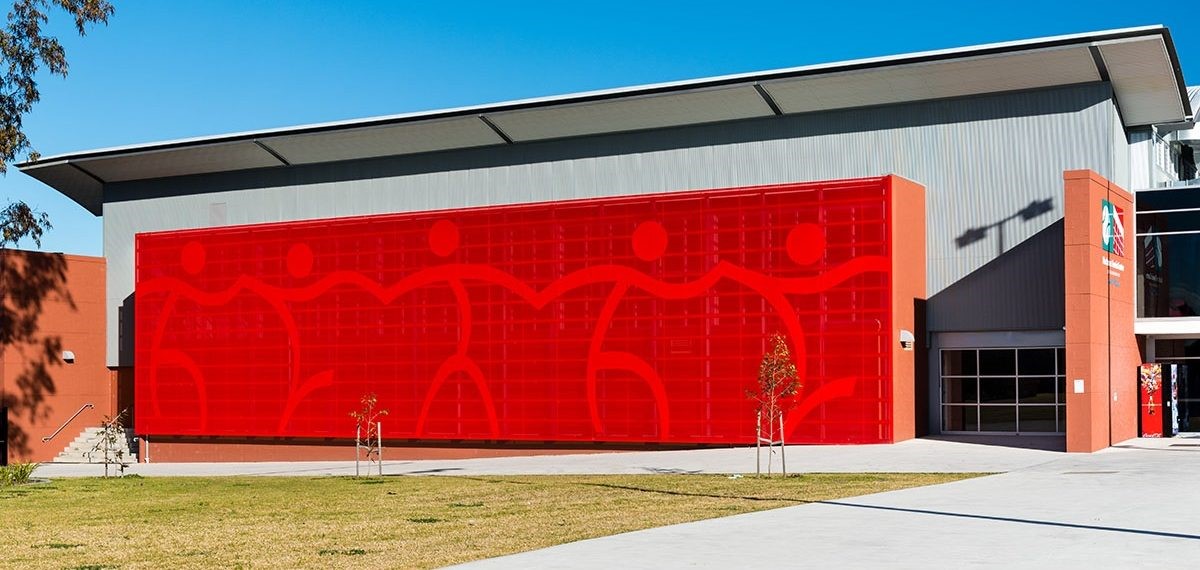 Artwork: This residential and commercial complex in Granville brings the words of local poet Todd Turner to life, together with a mural of the local river. We perforated the design so it flowed around the building.
Bridges: The incredible geometric design of Oatley train station's footbridge was the vision of the project architect, which we successfully achieved using our advanced perforation technology.
Metal screens: The personalised perforated metal we created for Narellan Town Centre shopping mall's outdoor play area tell the historic story of the local area. We perforated the screens with trees, trains and forests.
Façade: We created a striking wave design for the façade of this apartment complex in Brighton le Sands, reflecting the beachside beauty of its location.
We also transformed the logo of Wayside Chapel, Potts Point, into a perforated metal façade, a symbol of hope in the community.
Arrow Metal: Custom personalised perforated metal expertise
If you've got an inspired idea for a perforated metal design, have a chat to our expert team to see how we can make it a reality. We'll always advise the most cost-effective way to create customised solutions that meet your budget, including choice of material, finish and perforation design.
Call us on (02) 9748 2200 or send us an online enquiry.
Posted: March 27, 2018
---
4 responses to "Creating personalised perforated metal"