Colour predictions 2020: Top tones for metal
A coloured finish is one of the simplest ways to personalise perforated metal – but which shades will be the on-trend tones next year? Here's your quick overview of the current colour predictions 2020, which are certainly set to be making waves according to the experts.
Colour predictions 2020: Get ready for a sea-change
That's right, in 2020 it's going to be all about the ocean according to the Pantone Color Institute. There's no official announcement yet of the colours of 2020 but the company has already hinted that we will be awash with a palette of seaweed greens, driftwood browns and briny blues, instead of the corals and pinks that have defined 2019.
Over at this year's Milan Design Week back in April, ItalianBark reported a kaleidoscope of colour overflowing with champagne, lemon yellow, pumpkin red, fuscia and sky blue.
Whilst trend forecasters WGSN have also added their hot shades into the mix. They predicted back in 2018 that 'Neo Mint' will be the coolest colour next year, as we move towards futuristic and scientific shades.
Other top tones for colour predictions 2020 include Purist Blue, Cassis, Cantaloupe and Mellow Yellow.
Colour predictions 2020 project inspiration
If you fancy taking a dip into the deep when you specify your perforated metal product, take a look at these inspiring ocean-hued a nd on-trend projects:
Marine blues
Covent Garden Penthouse by Studio Ulanowski
The perforated anodised aluminium staircase at this penthouse in Covent Garden, London, is a key focal feature of the apartment. We love the combination of the iridescent marine blue and the soft, sand-like cedar tones of the walls.
Images sourced from Studio Ulanowski
Sports court by Garmendia Cordero Arquitectos
The blue metallic perforated skin of this sports court at a school in Barakaldo, Spain, is the perfect match. The three types of perforated metal slats allow the light shine, creating a year-round place to play.
Images sourced from Garmendia Cordero Arquitectos
Neo Mint
Freshigh Juice Bar by Dongqi Architects
We've highlighted the zingy interior of this Shanghai beverage bar before, but it's bang on-trend for the predicted Neo Mint revolution. It's the refreshing blend of perforated metal and pale green that makes this juice outlet appeal to much more than just your taste buds.
Images sourced from Dongqi Architects
Casa Verde by LDA.iMdA
A more subtle shade of Neo Mint that also fits perfectly with the marine trend, the perforated metal facade of this mental health facility is a soothing architectural addition. The tranquil tone of Casa Verde – or 'green home' –integrates seamlessly into the surrounding woodland.
Images sourced from LDA.iMdA
Driftwood Browns
University of Arizona Cancer Center, by ZGF
The brown-toned copper perforated metal facade of the Arizona Cancer Center symbolises a protective layer of warmth and healing to patients, according to architects ZGF. It also matches the desert palette of the region.
Images sourced from ZGF
Guelmim Airport, Groupe 3 Architectes
Browns have really taken off at this airport. Designed by Groupe 3 Architectes, the perforated metal facade is finished in a whole spectrum of earth toned shades. The perforations maximise light and ventilation to help reduce the use of technical equipment, a key consideration for the project's environmental goal.
Images sourced from Groupe 3 Architectes
All colours
Roberto Cavalli's House, by Studio Italo Rota
And if in doubt, just go for all the on-trend tones, like Studio Italo Rota has done at design mogul Roberto Cavalli's house in Italy. The perforated metal facade is designed to change colour according to mood – which means this house will never go out of fashion!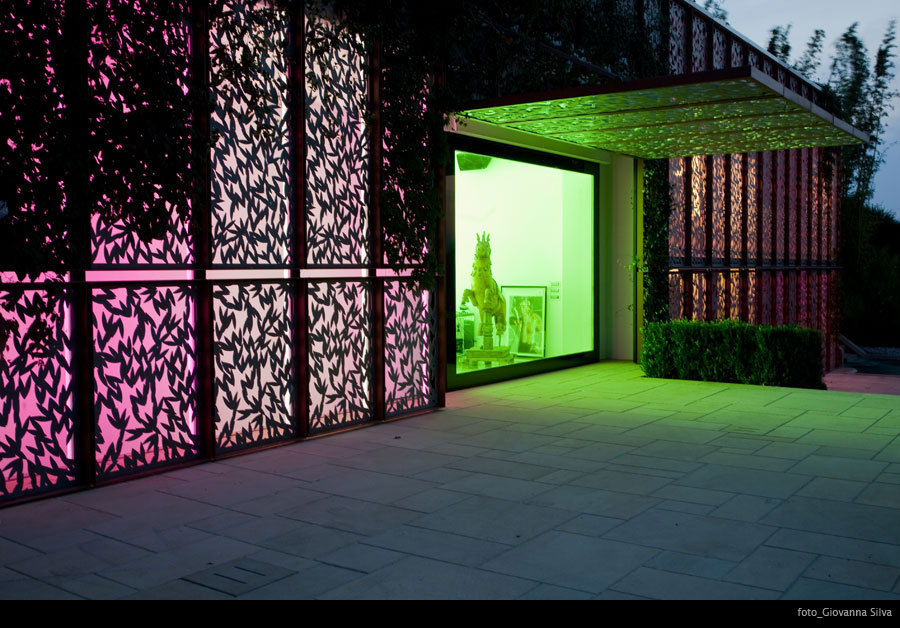 Images sourced from Studio Italo Rota
Coloured perforated metal: Arrow Metal expertise
Talk to Arrow Metal about our range of colour finishes for perforated metal. Colours can be used together with other durable coatings, for long-lasting true tones for years to come. Call us on (02) 9748 2200. Or send us an online enquiry.
Posted: August 26, 2019
---